To serve the post for the next 3 years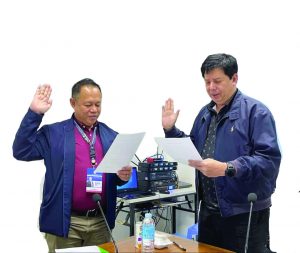 TACLOBAN CITY-Mayor Alfred Romualdez of this city formally took his oath as the chairman of the Regional Peace and Order Council (RPOC) for Eastern Visayas on Wednesday (March 15).
Romualdez, appointed to the post by his cousin, President Ferdinand Marcos, Jr., took his oath before Arnel Agabe, the regional director of the Department of Interior and Local Government (DILG).
In a statement, the city mayor said that he was humbled by the appointment extended to him by the President.
"I thank the President for the trust given to me," Romualdez said.
He will serve the post for three years.
Also appointed that will serve as Romualdez co-chairs were Major Gen. Camilo Ligayo, the commanding officer of the 8th Infantry Division, and B/Gen. Rommel Francisco Marbil, the regional director of the Philippine National Police.
The newly-named RPOC chair was also briefed on the current situation of the region related to peace and order and the council's accomplishments and undertakings.
Romualdez also vowed to serve as a bridge of the region to House Speaker and Leyte Rep. Ferdinand Martin Romualdez to secure funding for projects and activities that could lead to the development of Eastern Visayas.
Eastern Visayas, composed of the provinces of Leyte, Southern Leyte, Biliran, Samar, Eastern Samar, and Northern Samar, remains to have an active insurgency problem often cited among the reasons why it continues to be economically underdeveloped.
Ligayo, in particular, has vowed to quell the insurgency problem in the region, notably in Northern Samar where four of the five communist guerrilla fronts in the country continue to exist.
The Army general sees the problem to come to an end within the year.
As part of the campaign, over 1,000 soldiers, including its elite Scout Rangers, were deployed to Northern Samar.
The security officials in the region are also luring rebels to surrender and avail the assistance it provides under its Enhanced Comprehensive Local Integration Program (E-CLIP).
JOEY A. GABIETA