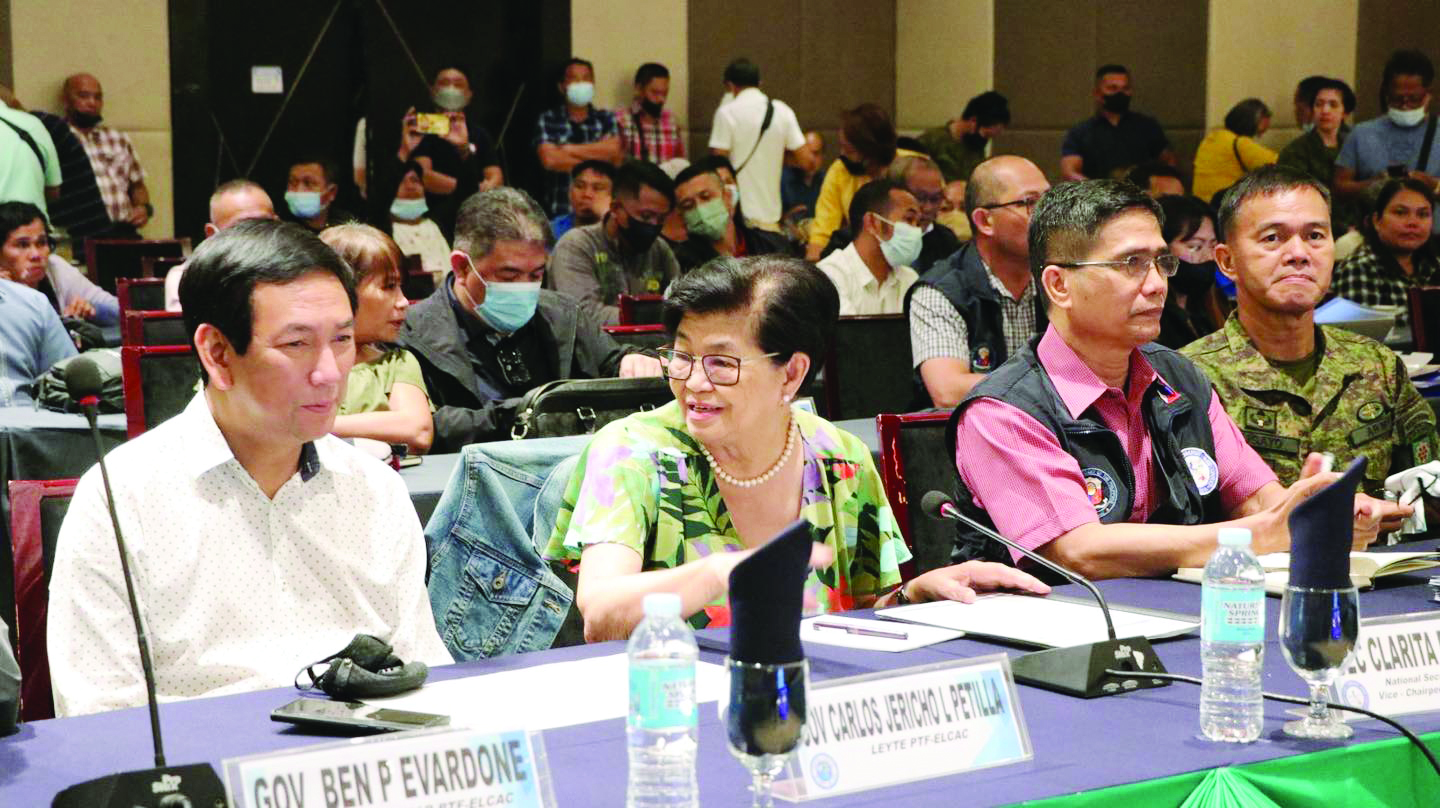 Carlos: Ending the five-decade problem among his priorities
TACLOBAN CITY-The administration of President Ferdinand 'Bongbong' Marcos, Jr. is determined to finish the insurgency problem of the country.
Thus said his security adviser, Sec. Clarita Carlos, who said that right from the start of his presidency and on his first Cabinet meeting, he had discussed about the communist insurgency problem.
Carlos was in the city Friday (Nov. 11) to attend meeting on security concerns of Eastern Visayas attended by governors and mayors and security and other government offices.
"Right from the beginning of our first Cabinet meeting, the President has spoken ending the NPA, this communist insurgency," she said during an interview.
Just like his immediate predecessor, Pres. Marcos is also engaging all government agencies to include the regional development and peace and order councils to finally stamp Asia's longest-running insurgency.
To recall, the whole-of-nation approach as contained under Executive Order No.70 is being used to end the country's insurgency problem through its National Task Force to End Local Communist Armed Conflict (NTFELCAC).
Major Gen.Camilo Ligayo, the commanding officer of the 8th Infantry Division, based in Catbalogan City, Samar, said that they are projecting that by the first quarter of next year, all the existing guerilla fronts in the region would be dismantled.
He said that of the five existing guerilla communist fronts in the country, four are operating in Northern Samar with the other one in Mindanao.
"We are winning the (war on) insurgency. Hopefully, within this last quarter or the first quarter of next year, we can dismantle the four guerilla fronts but first we have to clear the few remaining barangays under their influence," Ligayo said.
The Army general admitted that one of the factors why they are now gaining grounds against the communist rebels is due to the implementation of the whole-of-nation approach.
"With ELCAC implementation, this hastens our work. Insurgency is not only a military solution we need the whole of government here," Ligayo said.
This projection of Ligayo was welcomed by Sec. Carlos saying that she is 'happy' to know on the progress on the fight of government forces in Eastern Visayas against the insurgency problem.
"I like the report of Gen. Ligayo. He said that by the first quarter of next year, the insurgency problem will disappear," Carlos said.
JOEY A. GABIETA