PALO, Leyte- After two years of great lights and sounds, this town has come to life again this Christmas season.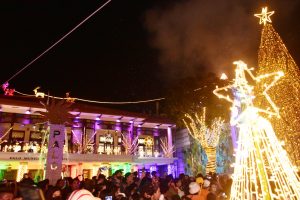 The town mayor, Remedios 'Matin' Petilla, led in the switching on of a giant and bamboo-made Christmas tree at the municipal plaza on Wednesday(Dec.14) night to the delight of the big crowd.
Mayor Petilla is pushing bamboo planting across the province not only as climate change mitigation as main material of various products.
Celebrating Christmas is incorporated to the town's tourism plan dubbed collectively known as '4Ps' which stand for 'Pamalandong' or Holy Week which is observed every March or April; 'Patron' or fiesta held every August; 'Pagbalik' or the Leyte Gulf Landings held every October; and 'Pasko' or Christmas.
As part of the municipal government's tourism thrust, the Pasko celebration has an automatic allocation of P2 million.
Mayor Petilla said that they are happy that after two years of celebrating a 'muted' Christmas, the traditional kind of marking the festivity will be observed again.
"So come with us and visit Palo," the mayor said as she invites even those not from the municipality to see and feel the Christmas celebration.
Aside from flooding the entire municipal plaza with colorful lights, the town's major bridges, Purisima and Bernard Reed, also bathes of colorful lights during the night.
Mayor Petilla also said that all the 33 barangays of the town have also put up their own Christmas decors and display as well as its public market and big establishments.
And anticipating crowds, all the health protocols relative to the COVID-19 will be strictly observed, she said.
Meantime, Petilla also said that the Christmas celebration in their town also serves as a showcase for their local delicacies or 'kakanins' which are sold at the public plaza.
For this year, about 30 kakanin makers from the different barangays of the town are participating, the town mayor said.
(JOEY A. GABIETA)