One of the biggest haul in years in EV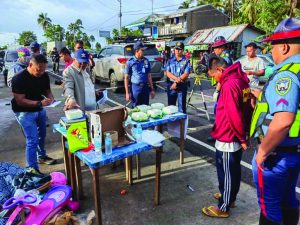 TACLOBAN CITY– A composite team, led by the Philippine National Police and the Philippine Drug Enforcement Agency (PDEA) scored big on the campaign against illegal drugs with the confiscation of suspected 'shabu' valued at P69 million on Monday (Jan. 31).
The composite team, assisted by Coast Guard, seized from Mangayao Mitomara, 40 from Marawi City the prohibited drugs weighing 10.4 kilograms.
"This is one of the biggest seizures of prohibited drugs in the region. We received a tip about this from our informants and we immediately conducted the operation with the help of PNP and Coast Guard," Rogelette Urgel, the regional information officer of PDEA, said in a phone interview.
Urgel said that the suspect was from Luzon and on his way to Marawi when his vehicle was intercepted in a checkpoint in Barangay Jubasan, Allen town in Northern Samar Monday at about 2:45 pm.
Jubasan is where the Allen port is located.
"The investigation is still ongoing so we cannot provide additional data like the personal circumstances of the suspect who is now detained at the lock-up cell of the Allen police station," she added.
Based on the report from the PNP regional headquarters in Palo, Leyte, police assigned at the checkpoint stopped the vehicle of the suspect and found out he was not wearing a seatbelt which resulted for them to bring him to the police station of Allen.
And during further questionings, Mitomara was said to have confessed that his car was loaded with the prohibited drugs.
The police then conducted their search operation and found the illegal drugs inside the vehicle's trunk placed in a plastic transparent wrapper.
B/Gen. Rommel Francisco Marbil, police regional director, commended his men for the confiscation of the illegal drugs.
Marbil said that the seizure of shabu is already a result of a task force he created, the Task Force Maharlika Highway, which aims to deter any illegal activities from individuals using the route in carrying out their illegal acts.
"The TF Maharlika is now serving its purpose. The case is now under extensive investigation for the filing of appropriate charges against the suspect," he said in a statement.
Urgel said that the suspect will be charged with violations of Republic Act 9165 or the Comprehensive Dangerous Act.
The Allen police already initiated an inquest proceeding against the suspect.
JOEY A. GABIETA