Still far cry for region to achieve herd immunity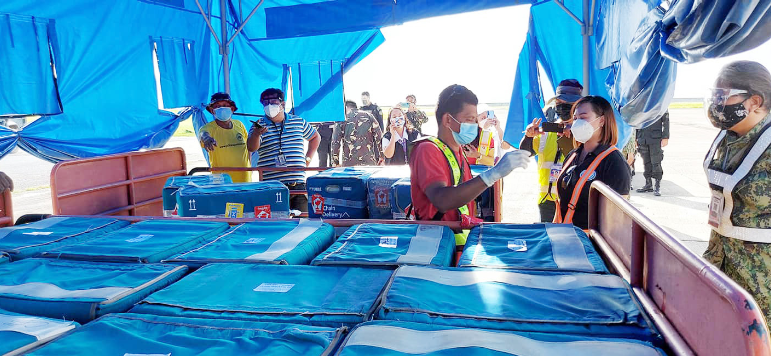 TACLOBAN CITY- Since the start of the vaccination here in the region last March of this year, more than 315,500 individuals have received the jabs against coronavirus disease (COVID-19).
This was reported by the Department of Health (DOH) which said that as of July 2, the region has so far received 404,140 vaccines composed of AstraZeneca, Sinovac, Pfizer, and Gamaleya Sputnik V.
The DOH said that so far, 315,535 individuals have received the vaccines and of which, 90,839 of them have completed the needed two doses.
Most of these individuals were medical workers and other considered as frontliners, seniors and persons with comorbidities as vaccination for the general public has yet to start in the region.
Based on the record of the DOH, the province of Leyte, to include the cities of Tacloban and Ormoc which are administratively independent from the provincial government, has the highest number of individuals who have been vaccinated with 129,866.
This was followed by Eastern Samar with 44,898; Samar with 43,513; Northern Samar with 42,283; Southern Leyte with 44,898 and Biliran,15,883.
The number of vaccinated individuals, however, is still a far from the target 75 to 80 percent of the region's more than 4 million population for Eastern Visayas to obtain herd immunity.
Earlier, Dr. Exuperia Sabalberino, DOH regional director, said that they would be ramping up their vaccination campaign for the region to achieve herd immunity which could drastically result to lowering the number of COVID-19 cases.
The DOH official said that they expect more vaccines will be arriving in the region.
Several leaders in the region have earlier sought for more vaccine allocations for their respective areas to respond the need and help halt any further increase of their COVID-19 cases.
Among them is Eastern Samar Governor Ben Evardone who said that increasing their vaccine allocation would result to more qualified individuals to receive the jabs.
He said that despite of limited vaccines available, the province was still able to post next to Leyte of highest number of persons inoculated.
As of July 2, the province has received 52,356 vaccines of which 48,056 or 92 percent have been administered.
Of the 404,140 vaccines received by the region, 319,370 were Sinovac; 81,210 AstraZeneca; 1,170 were Pfizer; and 2,400 Gamaleya Sputnik V.
Both Pfizer and Gamaleya Sputnik I vaccines were given to Ormoc City.
Meantime, the number of new cases in the region continue add up its total cases since the start of the pandemic last year.
On Monday (July 5), the region had 191 fresh cases, ballooning its overall cases to 31,345 with 28,874 recoveries.
The region, the DOH said, has 2,077 active cases and 394 total deaths.