TACLOBAN CITY– At least 10,088 scholars from different parts of Samar each received P3,000 as beneficiaries of the education assistance program on Wednesday (August 23).
Samar Rep. Stephen James Tan(1st district) said during the distribution that he hoped that the program would help not only the beneficiaries but even their respective families as this would mean less financial cost to shoulder and also would lead for the students to realize their dreams.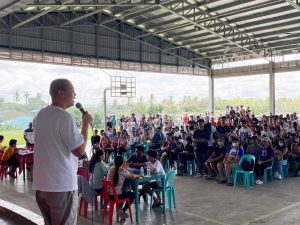 "I hope that through this assistance, we get to help you in fulfilling your dreams. I also trust that you will use the money wisely towards where it is intended, your education," the solon said.
It was learned that 10 scholars were selected from all of the 951 barangays of the province. Also, all of the board members of the province have their own scholars.
The educational assistance program in the province started way back during the time of the later governor Mila Tan but was continued by her daughter Gov. Sharee Ann Tan.
(LIZBETH ANN A. ABELLA)