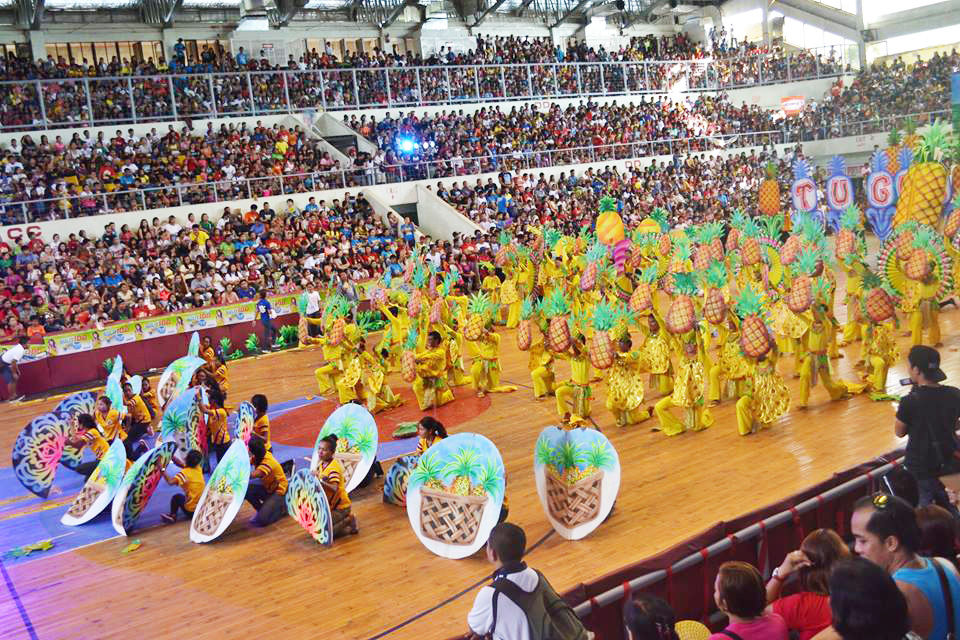 ORMOC CITY-Lively festival music and colourful-clad dancers filled city streets on October 20 as the city celebrated thanksgiving during the 5th Tugob Festival. Twelve contingents of 120 participants from different schools and groups in the city displayed the local richness and prosperity during the festival which coincided with the observance of the 67th Charter Day of the city.
The participants vied for the title under scorching heat of the sun during the street dancing and performed at four stations, clumped their feet on the ground, smacked their thighs and clapped their hands. The showdown followed in the afternoon at the city superdome. Each contingent was named after the resources that the city has been enjoying most: coconut, pineapple, rice, livestock, sand and gravel, water, sugarcane, vegetable, fish, steam, root crops and flower. "Tugob" is a Visayan, the dialect spoken by the residents of Ormoc, means bountiful or abundant. Mayor Edward Codilla led the city officials, employees and around 8,000 spectators that occupied the dome and witnessed the multi-colored presentations enduring the non-air conditioned sweltering ambience of the venue that is still under repair after the devastation of supertyphoon "Yolanda". The festival highlighted the 67th Charter Day anniversary that was participated by estimated 20,000 crowds. Western Leyte College (vegetable contingent) took all the major awards as this year's festival champion (P200,000), best in street dancing (P20,000), best in costume (P20,000) and the Tugob queen taking home P7,000.
New Ormoc City National High School (Flower) and Eastern Visayas State University (Sand and Gravel) first and second runners up received P190,000 and P180,000, respectively. All winners also received trophy.
The champion's choreographer automatically proclaimed the best choreographer receiving P10,000 cash and trophy. The non-winners were given P150,000 consolation prize. They were judged based on choreography and originality, performance, creativity of costume and non hand-held props. The defending festival champion New Ormoc City National High School now represents flower was also the first runner up in the street dance and the 1st Tugob second runner up Systems Technology Institute (now represents Coconut) got the third.
The street dancing started around 8 a.m. passing through the city's major city streets and the dance showdown at 1 p.m. Each participating contingent depicted through a dance the livelihood that the food and natural resources have provided the people. Like the white-clad steam contingent gave focus on geothermal steam that endowed with geothermal energy and produces electricity. Ormoc, together with Kananga town in Leyte, hosts the Leyte Geothermal Production Field (LGPF). Today, the geothermal plants in Ormoc City provide electricity not only to the locality but also to other parts of the region and some provinces in the Visayas and Luzon.
Edwin Codilla, Tugob Festival committee chairman and executive director, invited festival experts from Cebu City as judges chaired by Engr. Junjet Primor, Sinulog Foundation executive director and international dance and fashion choreographer. This year's festival was the first being participated by non-school contingents – Liga ng mga Barangay and Public Market Vendor's Association. Mayor Codilla thanked all the contingents especially the schools for despite the ruins caused by Yolanda in November 8, everybody merrily took the pleasure in participating the celebration. (ELVIE ROMAN ROA)