TACLOBAN CITY – Validators for the 2023 Galing Pook Awards had conducted site validation in Ormoc City for their entry "Saving Kan : A love story of Ormoc Bay (The Marine Mammal and Reptile Rehabilitation Center).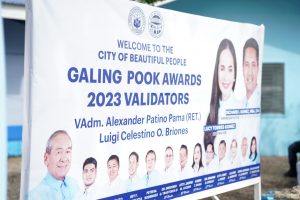 The validation was held from September 4 to 5 and headed by VAdm. Alexander Pama (ret.) accompanied by Galing Pook program officer Luigi Celestino Briones and were welcomed by Mayor Lucy Torres Gomez.
Out of the 166 entries,Ormoc was one of the 33 shortlisted of which the top 20 finalists are to be chosen.
The Marine Mammal and Reptile Rehabilitation Center is one of the important projects of the city due to its contributions to biodiversity conservation and community education.
The center is managed by the Fishery, Coastal, and Aquatic Resources Management Division headed by Irish Belmonte.
The facility aims to conserve marine mammals and reptiles by providing a haven for injured, stranded, or orphaned animals, offering them the necessary care and rehabilitation they require.
And once recovered, these mammals and reptiles are then released back into their natural habitats.
Another function of the facility is to raise awareness and educates the local community and visitors by instilling in them a sense of responsibility and appreciation for marine life and wildlife conservation among the public.
Last July, the facility released a green sea turtle that was rescued at the city's sea water.
The sea turtle was the third to be rescued and rehabilitated this year with the help of the center, and the 24th since 2016.
(ROEL T.AMAZONA)