Coast Guard says 20 liters of oily water mixture collected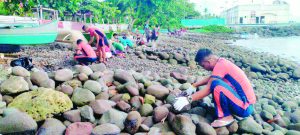 TACLOBAN CITY-The oil spill that affected the shore of San Ricardo in Southern Leyte has been declared as contained by the Coast Guard although investigation as to the cause remains.
The oil spill, which affected the coastal villages of Benit and Tambo, resulted in the collection of 20 liters of oily mixture, Lt. Commander Donna Liza Duran, Southern Leyte provincial Coast Guard commander, said in a phone interview on Monday (July 10).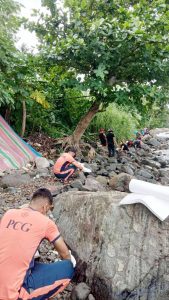 "The oil spill has been contained already with the last cleanup ending at about 1 pm today (Monday). We have to credit this to the immediate response by the Coast Guard as well as by the local residents and officials," she said.
"The Department of Environment and Natural Resources has conducted its water sampling and declared the water as clear and safe," Duran added.
The oil spill was first noticed on Friday (July 7) coming from a private port in Benit which affected Benit and the adjacent barangay of Timba.
Duran said that while they have declared the incident as over, covering 500 meters in all, their investigation as to who was responsible is still ongoing.
She, however, declined to provide further details as the probe is still underway.
"But what we can guarantee is that somebody will be held accountable for this oil spill incident. Otherwise, this could happen again," Duran said.
According to her, those found viable could be sanctioned for environmental violations.
"The local government unit of San Ricardo may seek damages for environmental violations and our environmental protection unit could also look at how they dispose their oil waste," Duran said.
She said that oil samples were taken from two vessels, LCT Georgia-1 and MV San Ric Ferry 20, which are to be compared and match with the oil that spread on the water.
It was learned that prior to the incident, the two ships were docked at the said port.
As early as Sunday, Mayor Roy Salinas said that the situation has been under control.
"There is also no need to declare any state of calamity due to the oil spill. Cleanup drive was immediately conducted to ensure that it would not further spread," he said in a phone interview.
Salinas has earlier directed residents of the affected villages not to venture to the water either to swim or to fish due to the cleanup drive.
The affected villages are all in the coastline where many of its residents were said to be into fishing as their main source of income.
Meantime, the regional office of the Department of Social Welfare and Development (DSWD) has provided relief assistance to the affected villagers of Benit and Timba.
At least 297 families or 1,118 individuals were affected by the oil spill.
Of this number, 196 families or 782 individuals were from Benit and 101 families or 335 individuals were from Timba.
"(The mayor) recommended food-for-work as they initially hired people to clean the seashores with their limited budget," DSWD Regional Director Grace Subong said in a press statement.
JOEY A. GABIETA/ROBERT DEJON