NSSDEO, Brgy. Burabud, Laoang, N. Samar, 08/07/2023 – Personnel from the Internal Quality Audit Service (IQAs) of the Department of Public Works and Highways conducted an audit on Northern Samar Second District Engineering Office (NSSDEO) as regards the implementation of Quality Management System (QMS) in conformance with the requirements of Department Order No. 22 and ISO 9001:2015 certification.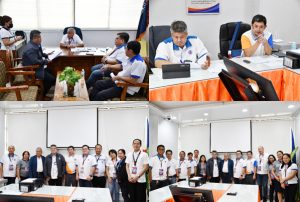 The IQA auditors who conducted the NSSDEO appraisal last August 1-3, 2023 were Mr. David Isabelo Alvarez, Supervising Administrative Officer, and Engr. Rony Beejay Aler, Chief of Construction Section/Division, both from DPWH-Regional Office V, Rawis, Legazpi City, Albay. The assessment covers aspects on Leadership, Planning, Operations, Performance Evaluation, Procurement Management, Human Resource Management, Financial Management, Physical Resource Management, Information Management and Documentation Management.
The measures of the audit were Department Order No. 100, s. 2022, Risk and Opportunity Management, D.O. No. 32, QMS Standard, Procedure and Process, D.O. No. 52 s. 2017, Workplace Quality Standard, Clauses & sub-clauses ISO 9001:2015, Issuances and other pertinent Rules and Regulations.
Before the audit proper, OIC-District Engineer Charlito S. Carlobos gave an opening statement wherein he highlighted the importance of the audit since the DPWH is ISO-accredited agency of the government requiring adherence to standard QMS processes and procedures.
The actual audit started with the Office of District Engineer under OIC-DE Charlito S. Carlobos and Office of Assistant DE led by Atty. Arthur Eric L. Sabong, followed by District Public Affairs and Information Staff headed by Mr. Joemar M. Patilan, Information and Communication Technology Staff headed by Mr. Edmund P. Somoray, and Supply and Property Management Unit led by Ms. Imelda Dolo.
In the afternoon was the Procurement Unit headed by Engr. Joseph C. Romance, and followed by the Administrative Section headed by Ms. Ma. Amparo Mariam T. Dapug.
On the same day, Engr. Aler separately audited the Finance Section supervised by Ms. Michelle G. Suan, Planning and Design Section led by Engr. Fiona A. Anunciado, and Construction Section under Engr. Gil D. Herrera, Jr.
On the following day, the team audited the Quality Assurance Section headed by Engr. Eduardo M. Lagrimas and last, the Maintenance Section headed by Engr. Francisco Y. Taňala including the Equipment Service Unit led by Engr. Allan Chan.
Overall, the three-day activity ended up smoothly. During the exit conference, the internal auditors expressed their gratitude and appreciation shown to them by the management and the employees of the NSSDEO. Mr. Alvarez assured everyone that the audit conducted aimed in improving the DPWH programs and process flow in order to deliver a better public service.
(Lyca Mae T. Quilicol, PIO Alternate)