NSSDEO, Brgy. Burabud, Laoang, N. Samar– The DPWH-Northern Samar Second District Engineering Office (NSSDEO) headed by OIC-District Engineer Charlito Carlobos conducted the monthly contractors coordination meeting held at the Multipurpose Building, NSSDEO, on September 21, 2023.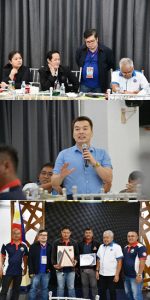 The meeting was presided by OIC-DE Carlobos assisted by OIC-ADE Atty. Arthur Eric L. Sabong, Chief of Sections, and the technical personnel of the District Office. Also in attendance are client contractors and their liaison officers.
The meeting's agenda were the prior and current year's Regular Infrastructure Projects Status, updates on claims/billings and retentions, Project Engineer's project status report, and the contractor's issues and concerns.
It was formally started through a discussion/open forum by Mr. Edgardo Alegre of the Department of Environment and Natural Resources-CENRO Pambujan, where, he gave emphasis on tree cutting permits and its appropriate sanction. It was followed by a technical discussion on the part of the Northern Samar Electric Cooperative represented by Engr. Nilo Estopa, TSD Manager, NORSAMELCO.
Mr. Reynato Dubongco, Provincial Manager of the Philippine Coconut Authority, tackled about the permit to cut and permit to transport and its corresponding fees, valid grounds for cutting and its supporting documents, to name a few.
Issues and concerns on Northern Samar security update was tackled by Brigadier General Efren F. Morados of 803rd Infantry Brigade, 8th Infantry Division, Philippine Army.
Meanwhile, DE Carlobos reminded each section to update project status and asked the contractors regarding their project's status and progress.
The activity winded up after all the issues and concerns and objectives of the meeting were tackled and addressed.(LYCA MAE T.QUILICO,PIO ALTERNATE)