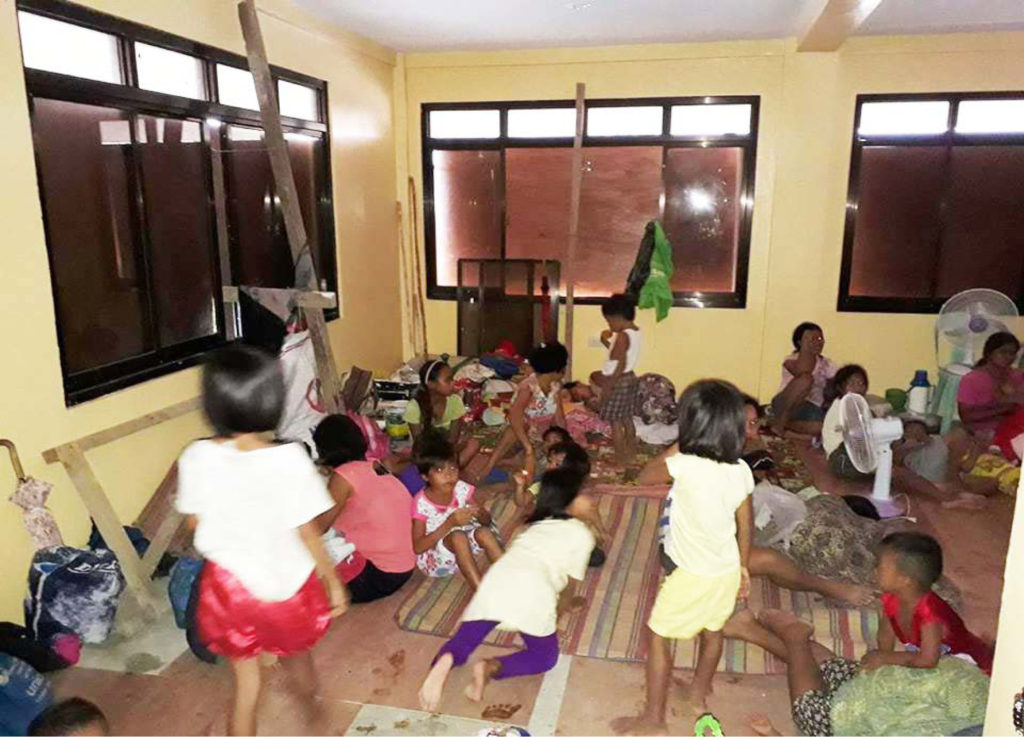 Among PH strongest typhoons this year
TACLOBAN CITY – Contrary to the projection, typhoon "Nina" spared the region from its wrath though various local government units particularly in Northern Samar conducted preemptive evacuations of families living in coastal areas.
Nina, packing a maximum sustained wind of 185 kilometers per hour (kph) near the center and gustiness of up to 255 kph, is considered to be among the strongest typhoons to hit the country.
It battered the Bicol Region displacing more than 300,000 persons based on the report of the National Disaster Risk Reduction Management Council (NDRRMC).
"The impact of heavy rains due to the tail end of a cold front last week in Samar Island was even more damaging as it caused flooding and rendered some roads and bridges impassable," Edgar Posadas, regional director of the Office of Civil Defense and regional chair of the Regional Disaster Risk Reduction Management Council(RDRRMC), said.
The widespread flooding, which displaced more than 72,000 families, has killed two persons each in Eastern Samar and Northern Samar and one from Samar.
Bridges and roads, to include a portion constructed under the MMC (Millennium Challenge Corp) of the United States, were damaged or destroyed due to heavy rains last week.
But while Nina spared the region, notably Northern Samar which was the area most likely to bore the brunt had it directly hit the region, local government units were in full alert for any possibility.
At least 4,317 residents in coastal communities in Northern Samar were preemptively evacuated to evacuation centers for their safety.
On Monday (December 26), they were directed to return to their respective houses after the storm signal was lifted.
Of the total affected individuals, 409 families were from Pambujan; 3,384 from Rosario; 124 from Laoang and 400 from the provincial capital of Catarman.
These individuals composed of 1,086 families, stayed in 16 designated evacuation centers meant for residents in low- lying communities.
"The local government units were very proactive. All affected families were supported by local resources although relief goods from the national government have been prepositioned," Posadas said.
More than 1,800 Luzon-bound passengers resumed their travel after the Philippine Coast Guard lifted the sea travel ban since December 23 after storm signal was hoisted in Northern Samar and Sorsogon provinces.
Aside from passengers, the typhoon had also stranded 279 buses, trucks, and light cars as authorities imposed travel ban of five roll-on roll-off vessels docked in ports of Allen and San Isidro towns.
"Personnel from the local police and local government unit were assigned in ports to attend to the needs of stranded passengers who spent Christmas at port terminals," Posadas said.
While sea travel resumed, the three airline companies – Philippine Airlines, Cebu Pacific and Air Asia – cancelled on Monday 10 Manila-Tacloban flights as the typhoon affected the National Capital Region and nearby provinces.
Also cancelled are Philippine Airline flights bound for Calbayog City in Samar and Catarman in Northern Samar from Metro Manila.
By: SARWELL Q. MENIANO/ROEL T. AMAZONA