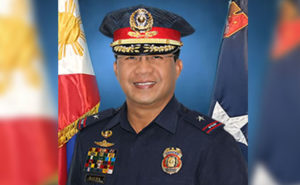 TACLOBAN CITY-The more than 9,000 strong members of the Philippine National Police (PNP) in Eastern Visayas has a new regional director in B/Gen.Bernabe Balba who is now undergoing the mandatory 14-day self- quarantine since Sunday (March 22).
Balba, who held the post as district director of Manila Police District (MPD), replaced B/Gen.Ferdinand Divina who was assigned as acting director for intelligence of the police organization. Divina held the regional post on October,2019.
Due to the prevailing situation, no formal turnover rite was scheduled though a simple turn of command ceremony was held last March 19 at the MPD headquarters, Lt. Col.Maria Bella Rentuaya, PNP-8 regional spokesperson, said.
According to Rentuaya, the new police regional director had to travel by land to reach the regional PNP headquarters located at Camp Ruperto Kangleon, Palo in Leyte province as the Tacloban Airport was shutdown in the aftermath of the Luzon-wide lockdown due to the threat of the coronavirus disease 2019(COVID-19) pandemic.
Rentuaya said that considering that the new police regional director came from Manila, he had to undergo a mandatory 14-day quarantine. All individuals who came from Metro Manila and other areas where there are confirmed COVID-19 cases are considered to be persons under monitoring.
Balba quarantined himself at his staff house inside the PNP regional headquarters, Rentuaya said.
Still, Balba is doing video conferencing with provincial and city directors, and regional staff officials to ensure that peace and order will be maintained in the region as the police personnel are deeply involved in manning of all quarantine checkpoints.
"It is my fervent hope to lead the PRO-8 as your regional director. I know for a fact that the police force of Eastern Visayas is resilient and reliable. Now that we are facing an emergency crisis, I have high hopes that we can overcome any trial," he said, as quoted by Rentuaya. (JOEY A. GABIETA) xxx