TACLOBAN CITY – The city government of Bacoor in Cavite and the municipal government of Palapag, Northern Samar have signed a sisterhood agreement that would boost their economic, trade, tourism, educational and cultural ties.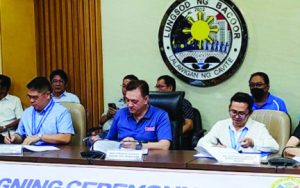 Palapag Mayor Florence Batula, in a press statement released Friday, said less developed towns need the help of local government units with vibrant economies like Bacoor City to become more productive and competitive.
"Palapag is one of the less developed areas and we need help from local government units with vibrant economies such as Bacoor," Batula said during the signing ceremony held at the Bacoor Government Center on Thursday.
Batula also said it was not the first time that Palapag and Bacoor had a pact. She said the ties even began during the Spanish colonization when men from Palapag town were sent to Bacoor to build galleon ships.
For his part, Bacoor Mayor Strike Revilla vowed to assist Palapag with technical assistance and other resources to help the development of the municipality.
"Our vision is to sign more sisterhood pacts with other local government units. I am sure we will learn both ways. There are things in Northern Samar that we don't have here in Bacoor," Revilla said.
Northern Samar Governor Edwin Ongchuan who also attended the ceremony said he was hopeful that the agreement would foster a long-term relationship that would foster friendship and promotes economic, trade, tourism, educational and cultural ties between partnering local governments.
"I am hopeful that this sisterhood pact between Palapag and the city government of Bacoor will strengthen their partnership and open opportunities for the people of Palapag to showcase their agricultural, cultural and tourism potential," Ongchuan said.
Palapag, a third-class municipality in Northern Samar with a population of over 34,000, is one of the oldest settlements on Samar Island.
According to history, locals in Palapag and the missionaries played an all-important role in sheltering and securing the richly laden Manila galleons returning from Acapulco, Mexico. (PNA)