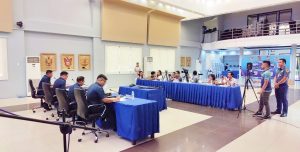 TACLOBAN CITY – The police force here in the region confiscated several firearms owned by a man said to be a member of a notorious armed group operating in Calbayog City.
The subject of the operation, only identified as alias Valentino Wahingon, however, managed to elude arrest while a warrant for murder was being served to him on August 31 at his residence in Barangay Salvacion in the said city.
The cache of firearms recovered by the law enforcers include one unit of MA16A1 rifle; one unit 12 Gauge Shotgun; one piece of a short magazine for M16 and 56 rounds of live ammunition for Caliber 5.56.
It was learned that while the law enforcers, consisting of police provincial and regional and provincial intelligence units, were to serve the warrant, the suspect was able to escape and ran towards a forested area in the village.
And in the course of the chase, the law enforces were able to discover and recover the firearms.
It was learned that the suspect is a newly-identified member of the Wahingon Group, a sub-group of the Managaysay Group operating in Calbayog City and its adjacent municipalities.
The group is said to be engaged in the gun-for-hire activities.
Wahingon has a standing warrant of arrest for the crime of attempted murder issued by Judge Maricar Lucero of the Regional Trial Court, 8th Judicial Region, Branch 41 dated July 21, 2021.
(ROBERT DEJON/ROEL AMAZONA/LIZBETH ANN A.ABELLA)