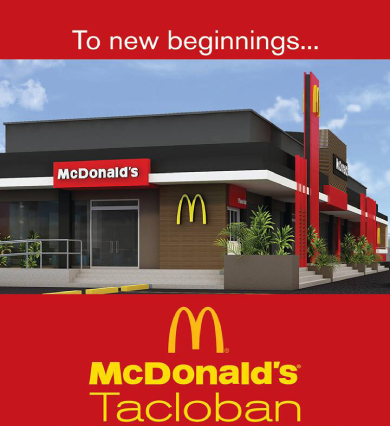 TACLOBAN CITY- Finally, after almost a year, McDonalds is back in Tacloban!
Beginning on October 16, hard-core loyalists and even just ordinary customers can once again enjoy the various meals and even new menus offered by McDonalds Tacloban. The building of McDonalds Tacloban was damaged due to the storm surges generated by supertyphoon Yolanda on November 8,2013. This resulted a damage loss of P40 million. But despite of this, Caroline Andrade of the McCarol Ventures which is the franchisee of the one of the world's well-loved and popular food chains, still chose to reopen McDonalds here in the city. "I have even heard that McDonalds will no longer open in Tacloban. But it's not true of course. There is no reason why we will not open again. I am pretty confident we still have the market," Andrade said. McDonalds Tacloban started its operations in the city on 2002.
She said that it took a while before they could start the repair of their building, located just at the back of the Tacloban port, due to difficulty in transporting materials and supplies. Repair of the McDonalds Tacloban begun last July. Andrade is proud to say that the current design of the building of McDonald Tacloban makes it as one of the best right now in the city. During the reopening, popular television and movie heartthrobs Xian Lim and Matteo Guidicelli will entertain the expected thousands customers for a possible "selfie" shots and autograph signing. And on serious note, no less than the chief operating officer of McDonalds Kenneth Yang and vice president for operation Melon Salazar will lead for the turn over of the "Bahay Bulilit," a project of the McDonalds as part of it corporate social responsibility to the management of the San Jose Central School.
The "Bahay Bulilit" is actually a classroom intended for those enrolled at the day care center Andrade said that "libreng sakay" or free ride will be offered to their customers coming from outside the city proper on the night of the opening to ensure that they could still go home safe. McDonalds will be opened at 7 a.m. up to midnight. It's close to 100 crew and staff will be ready to welcome their customers back after an absence of almost a year of McDonalds in Tacloban. More than half of the current crew and staff worked at the McDonalds, pre-Yolanda, Andrade said. (JAG)