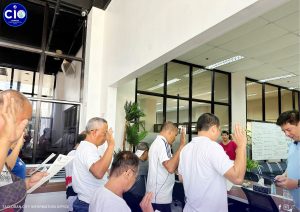 TACLOBAN CITY– Officers of the Tacloban Persons with Disability Federation, headed by its newly-elected president Raymund Gaspay, and the Tacloban City Persons with Disability Association, headed by Dionisio Alcaraz Balintong, Jr., were sworn in on Wednesday (Sept. 6) by Mayor Alfred S. Romualdez, coinciding with the weekly "People's Day" of the City Mayor's Office.
According to Person with Disability Affairs Office (PDAO) officer-in-charge Claire Eden Tacazon, such organizations are important in bringing important services and assistance to the differently-abled sector, which now has 3,652 registered members in Tacloban City, based on data from the Philippine Registry for PWDs.
Here are the newly-elected officers of the TPDF, which is the umbrella organization of all PWD associations in Tacloban City: president: Raymond L. Gaspay; vice pres.: Jose Juby P. Alday; secretary: Philip C. Ting; treasurer: Alicia Z. Labesig; auditor: Narsal O. Alimangohan; PIO: Wodie M. Labutap Ma.Cecilia M. Unay; protection officer: Diofel P. Llamado, Edgar U. Ditchon business manager: Dionisio A. Balintong.
Elected as board members were Fedilisa G. Dela Peña, Necart Paul M. Enfectan, Armando k. Garrido, Nestor D. Ronda, Rechelle Joy L. Espina, and Edilberto S. Badilla.
Meantime, reflected below are the officers of the city's PWD Association: president: Dionisio "Onie" Alcaraz Balintong Jr.; Executive Vice President: Ma. Cecilia Maralang Unay; vice president for Internal: Edilberto Suan Badilla Jr.; vice president for external: Susan Puyat Lledo; secretary: Lorna Sawaan Dizor; assistant secretary: Menchie Cajepe Castillote; treasurer: Rechelle Joy Lorenzo Espina; auditor: Sulpicio Peñaranda Cator Jr.; assistant auditor: Arnel Elejeda Grego; public relations officer: Jovelyn Quero Corporal; business manager: Julieta Maypa Abug; assistant business manager: Ma. Josiebel Cadlum Abuyot.
Board of Directors are Juanito Claros Puyat Jr.
Alicia Castillo Benson, Jennifer Tan Arevalo, Mary Grace Medino Plata, Betty D. Pondang, Jennifer Holares Climaco,Domina Adman Cayang, and Lerma Vega.
Serving as adviser/consultant are Vicente Orestes Romualdez, Ben Silla Calzado, Marian Makabenta Llamas, Eleuterio Daria Dagunot, Peluchi Jessamine Escaño Sinaca. (H.ROCA/TACLOBAN CITY INFORMATION OFFICE)