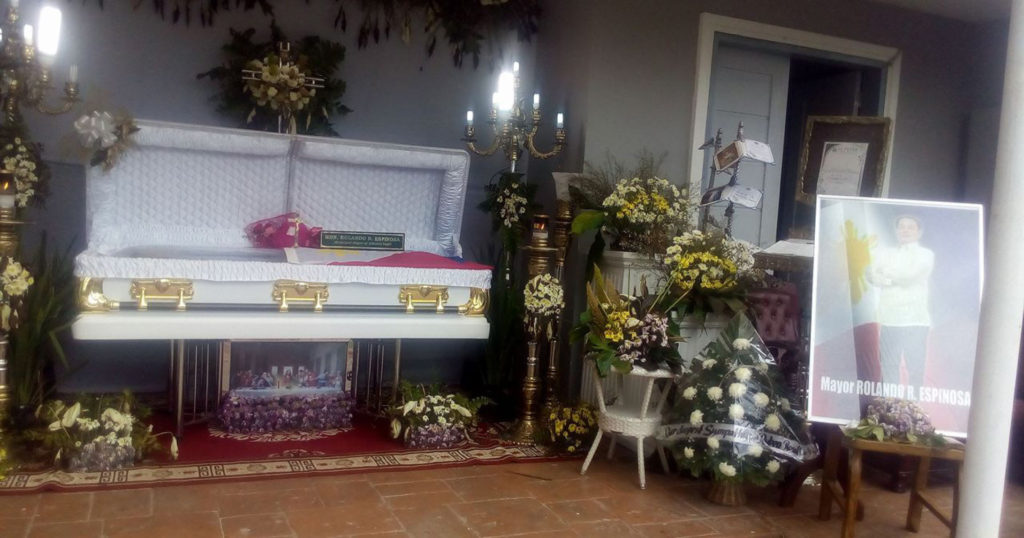 By: JOEY A. GABIETA
ALBUERA, Leyte- The murdered mayor of this town, Rolando Espinosa Sr., who was linked to the illegal drug trade in the region, will be buried on Sunday(Dec.4), a month after he was gunned down at the Leyte subprovincial jail.
This was confirmed by the family members of the slain mayor whose son Kerwin, self-confessed drug lord, failed to pay his last respects to his father.
Kerwin is now detained at the detention facility of the Camp Crame, national headquarters of the Philippine National Police (PNP).
The elder Espinosa will be buried at the Catholic cemetery of the town at around 2 pm, preceding a requiem mass at the Saint James Parish Church.
The former mayor of the town (population: 46,322) was gunned down inside the Leyte subprovincial jail on November 5 in an alleged shootout by the members of the regional Criminal Investigation and Detection Group (CIDG) who were to serve him a warrant for illegal possession of firearms.
His killing sparked an inquiry by the Senate's committee on illegal drugs and public order chaired by Sen. Panfilo "Ping" Lacson.
Kerwin described the killing of his father as a "rub out."
The family is calling for justice for the killing of their patriarch.
Lawyers of the Espinosas are calling for continued security for the family members considering that some of them have executed an affidavit detailing their father's and Kerwin's alleged illegal drug trade, to include high profile personalities who allegedly received drug money from them.
"They need also to be protected considering that some of them also executed an affidavit," lawyer Johan John Ungab, one of the counsels of the Espinosas, said in a phone interview.
At present, eight policemen, doing shifting duties, were detailed during the wake of the former mayor at their residence in Barangay Binolho.
Ungab said that they have made a request earlier before the regional PNP headquarters for security.
Meantime, Ungab and his co-counsel Leilani Villarino said that they were surprised over reports that the sacked CIDG regional chief, Supt. Marvin Marcos, was reportedly reinstated to his post.
"It sends a bad signal (to prospective witnesses). There is a pending investigation and there are witnesses that need to be protected, "Ungab said.
Villarino, for her part, declined to comment, on who could have ordered for the reinstatement of Marcos back to his old post as CIDG-8 chief.
"I don't like to speculate," she said.
Earlier, PNP Director General Ronald "Bato" De La Rosa, admitted that a "kumpare" had asked him to reinstate Marcos as CIDG-8 chief. He declined to identify the person whom he said made the request.