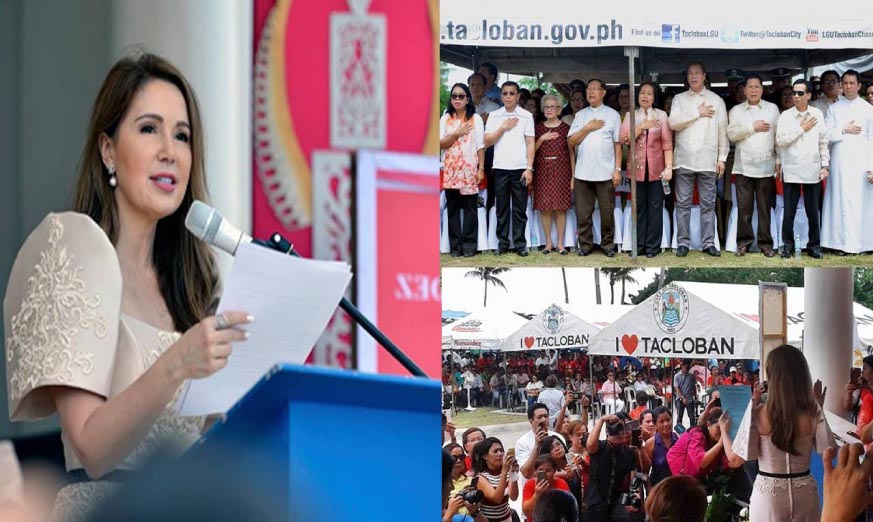 TACLOBAN CITY- "I thank all of you most sincerely from the bottom of my heart" says Mayor Cristina G. Romualdez as she took her oath of office held June 30, 2016 during the oath-taking and turn-over ceremony at Kanhuraw City Hall Terrace, presided by Brgy 88 chair Emelita Montalban. Mayor Cristina in intricately embroidered beige pina Filipiniana attire, stood gorgeously at the podium, also thanked her clan led by hubby and Tacloban out-going Mayor Alfred S. Romualdez, her children Sofia & Dianne and father-in-law then Mayor, Hon. Alfredo "Bejo" Romualdez for their love and support. She also thanked all the Barangay Chairmen who gave their all-out support during the campaign. Cristina, above all has thanked humbly the LORD for giving her the opportunity to be of service to Taclobanon. "I hope to serve you well and be of help to promote further the development of our City" she said.
"The LORD has granted us the strength to have survived the devastation brought by Typhoon Yolanda", HE has guided us through the reconstruction of our city and our lives. We therefore thank HIM for keeping our people bonded together under the leadership of my good husband, your Mayor Alfred. He bids his office good-bye for now, but not farewell, because he will continue to be our inspiration and our shoulder to lean on, she quipped. According to her, every suffering, every pain and every loss we went through together has brought us closer towards the fulfillment of our dreams by building ourselves from ground zero to where we are now, a better Tacloban.
"I hope to develop the city in a sustainable and inclusive manner, working in partnership with the private sector, non-governmental organizations, INGOs and the national government. Please be with us on this noble mission, Cristina added. Mayor Cristina cited the eleven programs she intends to focus on: Productive livelihood for marginalized sector aiming a positive measure to decrease poverty incidence; Comprehensive medical & nutrition program for children and nursing mothers; Completion of permanent shelters for Tacloban displaced families; Promote self-reliant livelihood through vocational courses under CLEP Program with linkages to profitable employment or home based income-generating small businesses; The lady chief executive added, we calibrate the K to 12 program to fit in the local culture, available employment spaces and increase sponsors for scholarships for deserving & financially distressed high school graduates; Involve our youth in sports, cultural activities and literary workshops; Encourage public-private partnership investments on local tourism and promote indigenous products of the city; Upgrade infrastructures to withstand the new normal super typhoons and earthquakes by adapting new architectural techniques for urban planning based on the fundamental concern of risk reduction, she elaborates. We likewise should adapt a common language, to unify our approach to disaster preparedness. Prioritizing every family's learn, obey and sustain order in facing the fury of nature, to equip and prepare them; Securing peace and order situation in every barangay thru the basic services and needs that can reduce crime. The entrance of the new administration's fight against drugs will strongly support our local law enforcers to practically clean our city from this menace; She likewise, encourages the protection, enhancement, respect and proper development of the environment as the responsibility of every individual. We simply must preserve our ecology for our future generations;
For Good Governance, indeed, transparency will be highly imposed. Continuing the legacy of my husband Mayor Alfred's administration, I hope to promote further the progress of our city and make it a better Tacloban City. As your sister, daughter, mother and Mayor of the city, it is my intent to measure our progress not only by the increased statistics of our income and by our physical and social infrastructure, but most especially by the measure of our gross domestic happiness. Thank you once again for the trust given me, may the good LORD continue to bless our city and our people. GOD Bless Tacloban! Mayor Cristina ended. Out-going Mayor Alfred S. Romualdez handed over the City's documents and flag to continue its work and service to his partner, the next Mayor of HUC Tacloban, Mayor Cristina G. Romualdez who gladly received it.
The 2016 Oath Taking & Turn Over ceremony likewise were attended by the City newly elected officials: Vice Mayor Jerry Yaokasin and Councilors: Edwin Chua, Jerry Uy, Maria Elvira Casal, Edward Frederick Chua, Victor Emmanuel Domingo, Evangeline Esperas, Aurora Aimee Grafil, Raissa Villasin, Jose Mario Bagulaya and Rachelle Erica Pineda, who took their oath as well. (GAY GASPAY)