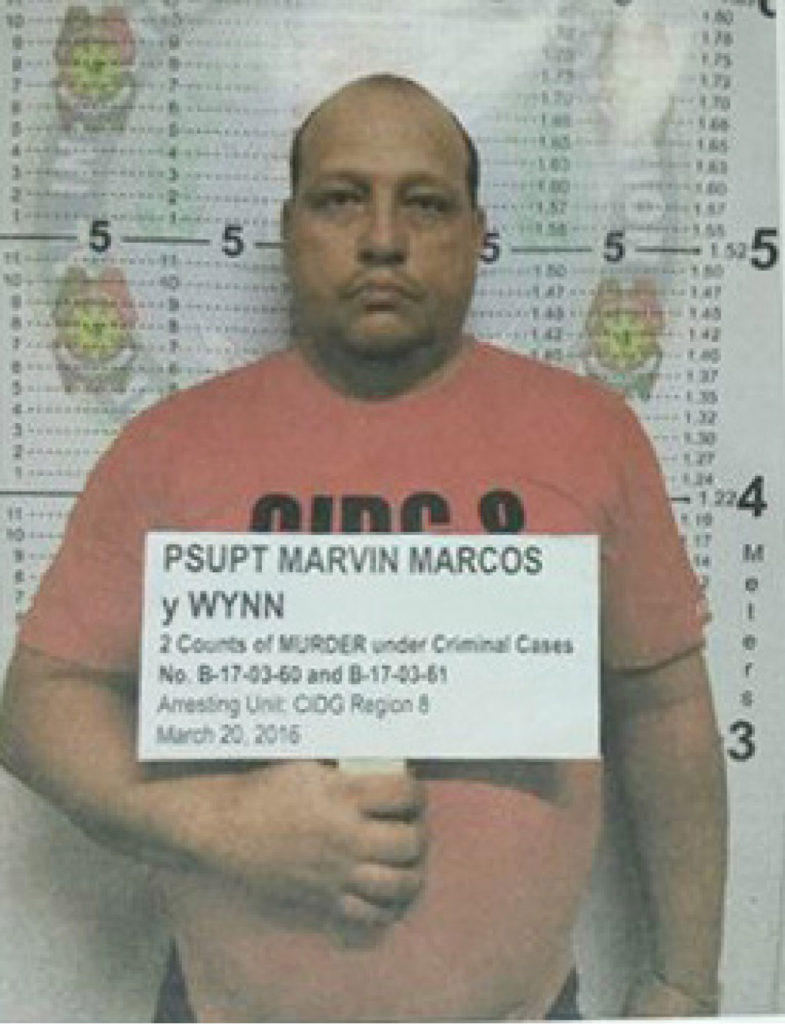 Detained at the CIDG lock- up
TACLOBAN CITY- For almost nine hours, controversial Supt. Marvin Marcos and 18 other members of the Criminal Investigation and Detection Group (CIDG) here in the region underwent the booking process and medical checkup inside their office, based this city, on Monday (March 20).
And during the entire proceeding, the CIDG men charged for the murder of Albuera, Leyte Mayor Rolando Espinosa, Sr. and Raul Yap, appeared to be "calm," Supt. Teodulo Armada, CIDG-8 deputy chief, said.
The CIDG did not allow the local media to witness the proceeding that started around 8 am and ended close to 4 pm on Monday inside the CIDG regional office located inside the Tacloban Port compound.
On Tuesday (March 21) at about 6 am, Marcos and his coaccused were brought, on board in three vans and heavily guarded by CIDG and members of the Regional Public Safety Battalion (RPSB), to Baybay City where the regional trial court that issued the warrants is based.
"They were all silent but were calm. We started the booking proceeding at 8 am and ended past 4 on Monday. At least two lawyers from them were present during the entire proceeding," Armada said.
"We also conducted medical examination to them to ensure that they are in good health before we present them in court," he added.
The mug shots of Marcos and his group were posted and shared in various Facebook accounts hours after the process was finished.
Aside from Marcos, also charged for murder for Espinosa and Yap were Supt. Noel Matira, Chief Inspector Leo Laraga, SPO4 Melvin Cayobit, PO3 Jhonny Ibañez, Chief Inspector Calixto Canillas, SPO4 Juanito Duarte, POI Lloyd Oeriguesa, Senior Insp. Fritz Blanco, PO1 Bernard Orpilla, Senior Insp.Doegracias Diaz III, SPO2 Benjamin Dacallos, PO3 Norman Abellanosa, PO1 Jerlan Cabiyaan, Inspector Lucrecito Candilosas, SPO2 Antonio Docil,SPO2 Mark Christian Cadilo, PO2 Jhon Ruel Doculan and PO2 Jaime Bascal.
Judge Carlos Arguelles, presiding judge of RTC-14 issued a no bail warrant against the accused.
Due to jail congestion at Baybay City Jail and the prohibition that only suspects who resides or committed the crime in Mahaplag and Albuera are allowed to be detained at the sub-provincial jail, Arguelles ruled that Marcos and his coaccused be detained at the lock-up facility of the CIDG-8.
All accused declined to be interviewed by the media.
Armada assured the court that they will comply with the order and that they would increase their security considering that the accused are considered as high risks.
Marcos and his men conducted a search at the Leyte subprovincial jail in Baybay City, Leyte on November 5 to serve warrant against Espinosa and Yap for alleged possession of firearms.
However, this resulted in the deaths of Espinosa, father of alleged drug lord of Eastern Visayas, Kerwin, and Yap, who is also accused of illegal drug activity.
According to Armada, he was not personally aware that warrants were already issued against the group until they came to their office "to voluntarily surrender" on Monday.
"I know that a warrant would be issued against them but not on that day. But at least, it was good that they chose to voluntarily surrender before any manhunt (order) could be issued against them," he said.
The warrants were issued on March 17,a Friday.
Armada said that he has no idea why Marcos and his coaccused came to their office to surrender almost at the same time, 6:30 am.
"Perhaps they knew that there was already warrants issued against them and they exchange text messages and decided to surrender to our office," Armada said.
"They chose to surrender before the CIDG probably, they will be comfortable considering that they belong to the unit," he added.
Armada admitted that he was somehow sad that his colleagues have to undergo the process and accused of committing the crime of murder.
"But we cannot do anything. We have to follow the law," he said.
By: ROEL T. AMAZONA/Joey A. Gabieta