The incident claimed 3 lives, 2 wounded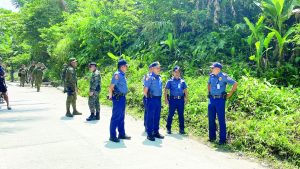 TACLOBAN CITY– Police regional director, B/Gen. Rommel Francisco Marbil, has directed his men in Samar province to solve the shooting incident in Calbayog City last Friday (April 14) that killed three people, including a 14-year-old girl, and wounded two others.
Marbil personally went to Barangay Victory in Calbayog City on Saturday (April 15) to see the scene of the crime and supervised the probe he issued to his policemen in Samar led by provincial police director, Col. Peter Limbauan.
Marbil expressed his shock and disappointment over the incident reason he wants the incident solved by running after the perpetrators.
He also expressed his condolences to the families of the victims.
"I am deeply saddened upon receiving this report. Despite doing our best in maintaining the peace and order in the whole of Eastern Visayas, this kind of incident still happened," Marbil said in a statement.
"With this, we assure the families of the victims and the public that we are conducting a thorough and speedy investigation," the police regional director said.
To recall, the shooting incident transpired at about 4:30 pm Friday (April 14) along the road of Purok 2, Brgy. Victory, about 10 kms away from the city which resulted in the immediate deaths of three people and wounded two others.
The victims were on board on separate motorcycles for hire when they were peppered with multiple shots by seven perpetrators who fled on foot after the incident.
Vicente Luzong, Jr.45; Angelo Lustico,43; and Rachel Ann Bolinao,14 died on the spot while Lane Dealagdan and Emy Casaljay, a village secretary, sustained gunshot wounds.
Unharmed were Vicente Luzong Sr., 73, and Venjo Vere, 30.
Several killing incidents have rocked the city in the past with most of these remains unsolved. Some of these incidents were traced to politics, land disputes, and personal grudges.
JOEY A. GABIETA/LIZBETH ANN A. ABELLA