Tagged by Duterte as a drug protector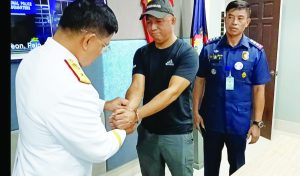 CAMP RUPERTO KANGLEON, PALO,Leyte– A former regional director of the Philippine Drug Enforcement Agency (PDEA) named by former President Rodrigo Duterte as a drug protector 'voluntarily appeared' before the police director of Eastern Visayas on Wednesday (Jan. 25).
However, from voluntarily surrendering, Erwin Ogario was arrested and handcuffed after a warrant of arrest against him was verified by the PNP officials in the region.
Ogario, who served as PDEA's director for National Capital Region and Region 13, was arrested and handcuffed by B/Gen. Rommel Marbil in front of other top regional police officials and members of the local media at the conference room of the PNP headquarters at Camp Ruperto Kangleon in Palo town, Leyte.
While he was being handcuffed, the warrant against him was read as he was informed of his constitutional rights.
Ogario, who was clad in a black shirt and a cap, did not speak with the members of the local media.
Marbil said that on Tuesday, he received a call from Ogario of his decision to appear to him and 'clean his name' against accusations that he is a drug protector.
But in the course of the press conference, he was informed by one of his assistants that Ogario has a standing warrant issued by Judge Elvira Panganiban, presiding judge of Regional Trial Court Branch 237 in Quezon City issued on Jan.3, 2019.
Based on the warrant, the former PDEA chief was accused of violation of RA 9165 or the Comprehensive Dangerous Drugs Act, particularly in section 4 which refers on the importation of dangerous drugs.
The court set P200,000 for his temporary liberty.
Marbil said that he could not provide any details regarding the crime accused against Ogario whom he admitted he has seen for a couple of times while he was assigned as the provincial director of Agusan del Norte from 2014 to 2015.
Ogario was the PDEA director for Region 13 at that time.
"He chose to appear before me because of his trust to the police personnel in the region. He wanted to clean his name and he believes that he can achieve a fair degree of justice under the (current) administration," Marbil said when asked the reason for Ogario's decision to come out in the open.
Marbil also disclosed that the other reason why Ogario surfaced was due to the 'threats' he has been receiving.
It was learned that Ogario traces his roots in Eastern Samar.
Marbil, however, said that he has no idea as where Ogario could have hidden himself during all this time.
To recall, Duterte, who launched an all-out war against illegal drugs, named Ogario as a 'high-value target' being an alleged protector of drug lords and accepted bribes from them.
He was held liable for obstruction of justice for facilitating the release of an arrested drug importer after claiming a parcel containing 1,358 ecstasy tablets at a post office in Pasay on June 29, 2015, without filing any criminal charge against the suspect.
Marbil said that after undergoing the booking procedure, Ogario will be turned over to the Quezon City court which issued the warrant against him.
JOEY A. GABIETA,ROEL T. AMAZONA