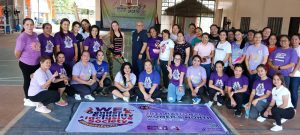 TACLOBAN CITY– The Leyte Second District Engineering Office (L2DEO) of the Department of Public Works and Highways (DPWH) supports the 2023 National Women's Month Celebration through a month-long Zumba activity every purple Wednesday.
District Engineer Leo Edward Oppura encouraged all employees of their office, including the men, to join the fitness activity to promote gender equality and disparity.
"Being physically active helps us strengthen bones and muscles, and improve our ability to do our daily tasks in the office and in our home. Let us take this opportunity to gain some health benefits," he said.
The Philippine Commission on Women (PCW) launched the 2023 National Women's Month Celebration marking a juncture in the advancement of women's rights in a new recurring theme from this year to 2028: We for gender equality and inclusive society.
The theme aligns with the Philippine Development Plan 2023-2028 which aims for "deep economic and social transformation to reinvigorate job creation and accelerate poverty reduction by steering the economy back on the high-growth path."
The plan also highlights that growth must be inclusive, building an environment that provides equal opportunities to all Filipinos and equipping them with skills to participate fully in an innovative and globally competitive economy.
Meanwhile, Oppura commended all the women, especially the civil engineers of the district office for their commitment to their work, hard labor, and constant effort to serve and provide the public with high-quality infrastructure projects.
(LIZBETH ANN A. ABELLA)