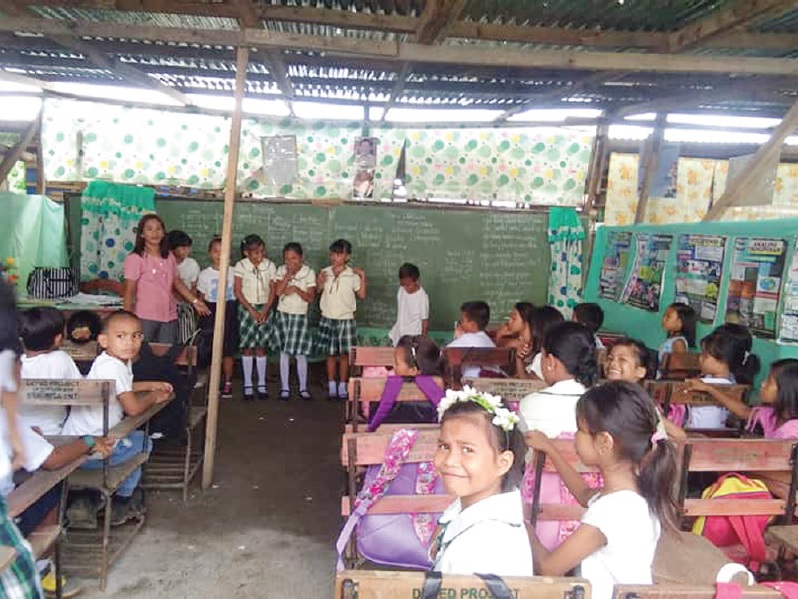 With 1.27 million EV students going back to schools
By: JOEY A. GABIETA
TACLOBAN CITY- As the more than 1.27 million students started to return to their respective schools on Monday (June 3), perennial woes continue to hound the schools.
These perennial problems that besets the public school system include lack of teachers and inadequate school rooms making students to almost squeeze with each other.
At the Guadalupe Heights Integrated School located in Barangay Suhi, this city, these woes are evident.
The school is one of the newly-established public schools in Tacloban located at its northern portion where families whose houses were destroyed due to super typhoon 'Yolanda' in November 8,2013 were resettled.
School principal Larry Peñalosa said that aside from needing new teachers, they need school buildings.
While the construction of a four-storey building is ongoing, students of the school, both in the elementary and secondary levels, are to contend with temporary school rooms made of light materials and separated only either by a wall or curtain.
"That is why, I asked the contractor if they could hasten the construction of the four-storey building consisting of 16 classrooms," Peñalosa said.
Based on the calendar of works, the project is to be completed by December of this year. It is worth P41 million funded by the Department of Education.
Peñalosa said that despite of the ongoing construction, they still need at least 16 new classrooms to accommodate their growing population coming from Guadalupe I, II, III, and IV with a combined population of over 10,000 people.
Genrix Oliva, a Grade 4 pupil, said that he does not mind if their classrooms are just like shelter-type.
"This is just temporary, I guess. I just want to learn," the student said.
At present, the school has about 700 enrolled elementary students and about 500 secondary students being handled by a combined 27 teachers.
Peñalosa said that they expect the enrollment to balloon as enrollment is still ongoing.
At the Burauen National High School in Burauen town, Leyte province, it still need at least seven new classrooms to accommodate its increasing number of student population, said junior high teacher Angelina Wing.
At present, the school has about 45 classrooms with an enrollment of about 1,600 handled by 63 teachers.
Jasmin Calzita, regional information officer of the Department of Education, said that all these inadequacies are being addressed by their office.
For one, lack of teachers are being addressed.
Their central office has allocated more than 340 new teachers for the region for this school year.
The regional DepEd office could not say how many teachers are needed in the region to fill up the void.
Calzita also said that based on their monitoring, the opening of classes went smoothly.
"We have not received any negative reports from any of our (school) divisions," she said.
The DepEd expects an enrollment of about 1.27 million students in kindergarten, elementary, secondary and senior high.
Police personnel were also deployed during the opening of classes to ensure that no untoward would happen.