PALO, Leyte– The insurance business apparently was not affected by the coronavirus disease (COVID-19) that saw business establishments in the country either closing or limiting their operations.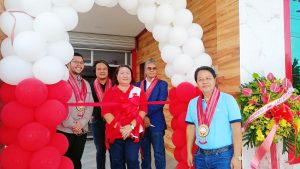 This is the case of the Pacific Union Insurance Company (PUIC) which just inaugurated a new office last June 2, a testament that it continues to thrive despite of the pandemic.
Ma. Agnes Costuna, the branch manager, said that she is happy that their insurance company, particularly under her management, continues to attract more clients amidst the pandemic.
"We were not affected by the pandemic. In fact, our clients even grow. This could be due to the fact that the construction sector also continues even during the pandemic," she said in an interview.
The PUIC caters mostly on constructors bond, surety bond for retention and warranty, biddings and engineering, judicial bonds, motor cars, and fire insurance.
At present, they have around 100 clients coming from different parts of the region, Costuna, who started to manage the PUIC since 2000, said.
Costuna said that the construction of their three-level building is an evidence how their company was not affected by the pandemic.
The building was constructed last February of this year and completed just last month.
Among the guests who graced the inauguration of their new office building were Tanauan Mayor Gina Merilo, and board member Ronan Christopher Reposar, who represented Leyte Governor Carlos Jericho 'Icot' Petilla.
In his message, Petilla lauded the PUIC as headed by Costuna for putting their office in Palo, particularly at the by-pass road.
The governor hope that the insurance company could serve more clients not only from Leyte but from other parts of the region.
He also vowed to support the PUIC.
(JOEY A. GABIETA/LIZBETH ANN A. ABELLA)