Bishop Varquez leading the anti-mining movement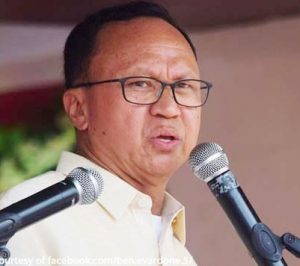 TACLOBAN CITY– The demand of religious leaders in Eastern Samar and the rest of Samar Island to stop all mining activities in the province, particularly on Homonhon Island, get the support of Governor Ben Evardone and a UP-Tacloban based organization.
Evardone, in a statement, said that he share the 'strong sentiments' of the Borongan diocese, led by Bishop Crispin Varquez, against the 'destructive' mining activities in the province.
He reiterated that over anything else, the welfare of the people and the protection of the environment should always be the utmost concern.
"The best interests of our people and the protection of the environment should be the paramount concern of all sectors. Environmental laws and social protection must be fully and strictly observed," Evardone said in a statement on Monday (August 7).
On that day, Varquez led some 2,000 people coming from the different parishes of the Borongan Diocese and some parts of Samar and Northern Samar demanding for the stoppage of mining activities, both in Homonhon and Manicani Islands, both in Guiuan town.
The mining companies are extracting chromite and nickel from these two islands. At present, there are four mining companies operating in Homonhon, a historic island where the rediscovery of the Philippines to the start started in 1521.
Mining operation is said to start also in Manicani Island.
"I am reiterating my call to all regulatory bodies of the government, particularly the Department of Environment and Natural Resources and Mines and Geosciences Bureau to adhere to the rule of law without fear and favor," Evardone said.
He also stressed that his office nor the provincial board has no hand in any mining operations of these companies, nor endorsed their operations.
Evardone has earlier called on the mining companies operating in Homonhon, namely, Cambayas Ming Corp., Techiron Resources Inc., Emir Mineral Resources Corp., and Mt. Sinai Exploration and Development Corp. to pay their excise taxes to the provincial government in the total amount of P133 million.
'(And) despite repeated demands, the province has yet to receive its share from the excise tax amounting to millions of pesos that our province needs for its people," the governor disclosed.
Meantime, in a separate statement, the UP Politikons, a student organization involving political science students at UP-Tacloban, also expressed their support to the call of the Church in Borongan.
In a statement, the group said that they condemn the continued mining operations in Homonhon and Manicani Islands as they call for a 'mining free Eastern Visayas.'
"The long history of mining in Eastern Samar which can be traced back to1983 has pushed the island perilously close to ecological death," it said on Monday.
"The continued extraction of minerals and other activities of similar nature have caused to further aggravate environmental degradation, posing substantial risks to the flora and fauna of Eastern Visayas and the health of very fabric that binds these islands together-its people," it added.
The group also called on the DENR and MGB to cancel any mining operations in both islands of Manicani and Homonhon.
The Inquirer has sought for reactions from the MGB regional office but did not receive any reply.(JOEY A. GABIETA)