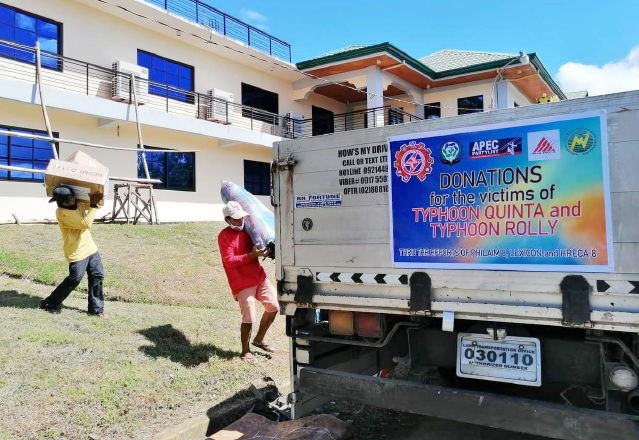 TACLOBAN CITY- All 11 member-ECs (DORELCO, LEYECO II, LEYECO III, LEYECO IV, LEYECO V, BILECO, SOLECO, SAMELCO I, SAMELCO II, ESAMELCO & NORSAMELCO) of the Federation of Rural Electric Cooperatives in Region 8 (FRECOR 8) were able to donate used clothing and basic commodities coming from their generous member-consumer-owners and employees.
Bundles of used clothing and basic goods coming from all corners of the region are currently being hauled onto a boom truck at Samelco 2 who willingly accepted the task of delivering the donations to Albay today for the victims of Typhoons Quinta and Rolly.
The call for donations was initiated by PHILAIM 8 and LEXICON 8 during their meeting last November 5, 2020 to help the people of Bicol Region particularly Albay where 13 teams of PRRD-Task Force Kapatid from Region 8 were previously deployed to hasten the power restoration activities and help restore power in the affected areas the soonest possible time.
The teams will be extending their stay until November 30th as the province was once again badly hit during the onslaught of Typhoon Ulysses recently. The extension was unanimously approved by Frecor 8 general managers after a request was received from its sister-coop APEC due to loss of power in some previously restored areas.
Aside from used clothing and commodities, coop employees also voluntarily donated and raised cash assistance to be given to the employees of the affected sister-coops in Bicol Region.
Truly, when the spirit of bayanihan and kindness works, we can make a difference and extend a helping hand to our Kababayans affected by the recent typhoons that rampaged parts of the country. (PR)