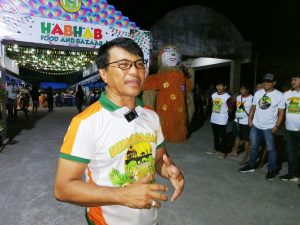 MATAG-OB, Leyte-Among the needs of a visitor in going to a certain place are things that they could put inside their stomach if they are hungry. But if you happen to pass by or visit the municipality, all you need to put in your belly is found in a place called the 'Habhab Food Bazar'.
Habhab, a local term for gluttonous eating, is located at their terminal and is loaded with different kinds of foods.
Last Saturday (Sept.1), Mayor Bernie Tacoy welcomed the visitor who joined the opening salvo of Himorasak Festival at the bazaar wherein you can find different kinds of foods which are very affordable as one visitor said that the prices of the foods are "linungsud" or for the town.
There is also a kiosk that offers barbecues, soups, and fresh seafood as well as fruits of different varieties at a lower price.
(ROBERT DEJON)