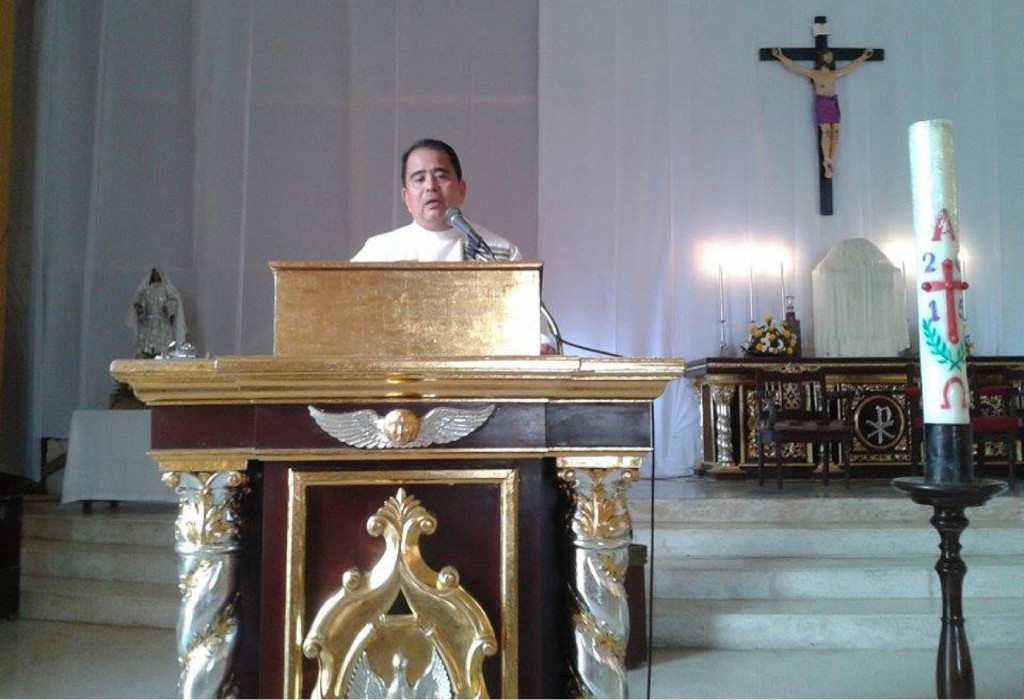 CARIGARA, Leyte-"The May Flower devotion should not be up to just eating and playing. The children and older ones should know the meaning of Flores de Mayo that it is about Mary, the Holy Rosary and the basics of Catholic faith, Mary being that most beautiful flower." This was an emphatic reminder of Fr. Roel Cahido, pastor of the Holy Cross parish of Carigara, the oldest quaint town in Leyte where Christianity was first introduced by the Jesuit missionaries.
In his weekend mass homily, Cahido underscored the need to focus on the catechesis about Mary following a general observation that the children who are joining the Flores de Mayo would sometimes come only for the loots ("bangaw", in the dialect) as well as the games. The priest called on the parish youth in-charge of the Flores de Mayo, in the 28 barangays and chapels covered, to teach and preach to the children especially in the month of May the Christian faith, and give example on how this faith could make them grow spiritually mature. Looking back at history, May is the month that flowers bloom in other countries and Mary, as the most beautiful flower, takes the center stage.
In this devotion, flowers are offered to Mary in veneration to her being the mother of Jesus, according to Cahido. "I am trying to inculcate in the minds of the youth their responsibility of imparting their faith and knowledge throughout this month," he said, encouraging the people, however, that the devotion should not only be in the month of May but throughout the year He said, the May Flower devotion should not be mistakenly identified with the "santacruzan" (Triumph of the Cross), albeit Mary is part of both festivities. Cahido stressed that the May 3 commemoration of the Feast of the Cross in the 7th century became a tradition not on said date but incorporating it by way of the santacruzan in the May festivities particularly on May 30 yet. Although the Holy Cross of Christ has its own feast in September, Queen Helena's finding of the wooden cross, called True Cross, where Christ Jesus was said to have been nailed to death, persists to grab the limelight on May 30, a day before the culmination of the traditional Flores de Mayo.
Cahido reminds that Mary, the most beautiful among the flowers that grow in the month of May, is part of the santacruzan as she was following Christ while He was carrying His cross even up to His death on the cross.  Similarly, Empress Helena of Constantinople and Constantine the Great searched and found the True Cross on May 3. He stressed however that the santacruzan is for the older people, while the May flower devotion is largely for the children, which should have the same focus – that is Mary and the basic teachings in Roman Catholic faith such as the parts of the Holy Rosary, making the sign of the cross and venerating it. (EILEEN NAZARENO-BALLESTEROS)