Welcoming 2018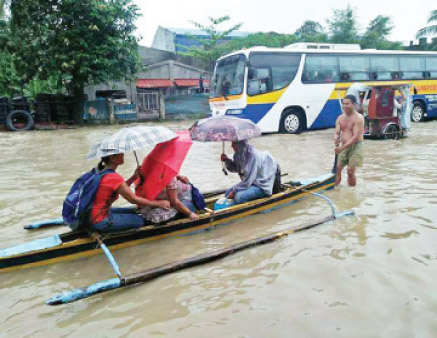 TACLOBAN CITY- The New Year celebration in the region was marked by flooding incidents but was considered to be 'generally peaceful' with less number of people injured due to firecracker blasts.
Tropical storm 'Agaton,' the first weather disturbance to hit the country in 2018, struck the region resulting in flooding incidents, to include Tacloban City.
In Kawayan town, Biliran, 41 families consisting of 215 individuals were evacuated to an elementary school after their village, Tucdao, was hit by a massive flooding compounded further when its spillway was destroyed due to the heavy rains and floodwater spawned by Agaton.
The families were evacuated at a nearby Tucdao Elementary School to ensure their safety, town disaster risk reduction and management officer Jessie Victorioso said in a phone interview.
"There were families in other villages who reportedly abandoned their homes and sought shelters at their neighbors' homes after their houses were affected by flooding," the official added.
Agaton struck Biliran province as it is still reeling from the devastation caused by tropical storm 'Urduja' that lashed the region on December 16, 2017.
About 52 people were killed in Biliran due to landslide incidents.
There were also families in Tanauan and Palo, both in Leyte, that were evacuated after their villages were hit by flooding, said Arvin Monge, provincial disaster risk reduction, and management officer.
In Jipapad town, Eastern Samar, 55 families were also evacuated due to flooding, a report from the Philippine Information Agency (PIA) based in Borongan City.
More than 3,500 passengers from different seaports in the region were stranded as the Coast Guard implemented a 'no sailing policy' among sea crafts due to Agaton.
Meantime, the regional Department of Health (DOH-8) reported of 26 people who were injured during the New Year revelries.
Ching Juntilla, DOH-8 information officer, said that the number was considerably lower compared to the 2017 record of 93 cases.
"We can attribute this to our relentless campaign (against the use of illegal firecrackers) with the help of our police officers, Bureau of Fire and Protection, and other concerned government agencies," Juntilla said.
Several local government units in the region have also identified their fireworks display zones like Tacloban City wherein the City Hall grounds was used for its firework display.
The inclement weather due to Agaton could also be a contributory factor as well as the full implementation of Executive Order Number 28 issued by President Rodrigo Duterte banning firecrackers like piccolo that pose danger to the public why there was a big drop of blast-injury cases, Juntilla said.
Of the 26 blast-injury cases, Northern Samar had the highest with 12 cases.
Chief Inspector Ma. Bella Rentuaya, information officer of the regional Philippine National Police (PNP), reported that there was no indiscriminate firing was monitored by them during the New Year's revelries.
"It was generally peaceful (as) no indiscriminate or stray bullet incident (was reported)," Rentuaya said.
By: Joey Gabieta