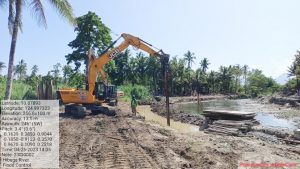 TACLOBAN CITY– Taking advantage of the dry season, the Leyte Second District Engineering Office (L2DEO) of the Department of Public Works and Highways (DPWH) is in full swing in constructing the flood control structure stretching the Hibuga River basin in Mayorga town.
The project has a project cost of P54.66 million that will include the installation of furnished and driven steel sheet piles and gabions.
District Engineer Leo Edward Oppura said that this project can lessen the negative impacts brought by inevitable disasters wherein river channels tend to rise up during heavy rainfall and typhoons, causing the river banks to collapse.
"With these structures, river banks will be guarded from destructive floods and erosion. People living nearby will be safe from the damaging effects of the sudden onslaught of rain, which affect their lives and the livelihood of the communities," he added.
This project began on March 13, 2023, and is anticipated to be finished by December 1 of the same year.
Meanwhile, in the previous years of 2021 and 2022, the district office completed a flood control project in a portion of the Hibuga River basin in General Luna, Mayorga, Leyte, with a combined amount of P87.64 million.
(LIZBETH ANN A. ABELLA)