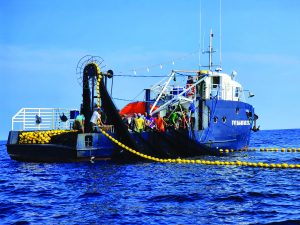 TACLOBAN CITY – A fishing vessel donated by the Bureau of Department of Agriculture (DA) and Fisheries and Aquatic Resources (BFAR) to a fishermen's cooperative in Northern Samar is now in operation.
On May 15, the FV DA-BFAR 2102 steel-hulled fish harvester, made its first fishing voyage resulting in a catch of 3,000 kilograms of fish.
The P39 million worth fishing vessel was donated to DA-BFAR to the Northern Samar Pacific Towns Fishermen's Cooperative (NSPTFC) last March 29 of this year.
The fishermen are from the Pacific towns of Laoang, Palapag, Mapanas, Gamay, and Lapinig.
"With more fish expected to come in and more regular voyages, we are prospecting an increase of needed labor with the local fisherfolks to deal with the demand of work," Mapanas Mayor Ronn Michael Tejano said.
"This will not only provide more employment locally but would definitely enhance our local economy and provide extra revenue for our LGU which could be used to further the development of our fishing industry. Our local consumers, particularly the indigents, are now enjoying cheaper prices of the fish caught by NSPTFC," he added.
Northern Samar has almost 1,000 tuna fishers who mostly rely on traditional fishing methods when catching tuna within the Pacific Ocean, according to the data of BFAR-8.
Through the help of the fishing vessel that BFAR gave to the fisherfolk organization, the bureau foresees at least a 5.4% or 180-200 metric ton increase in tuna production in Northern Samar being provided with the state-of-the-art steel-hulled purse fishing vessel which can store at most 5,000 kilograms of fish catch.
In 2022, Northern Samar contributed 13% of the region's total fisheries production and recorded the second-highest yield of tuna production in the region.
(ROEL T. AMAZONA)