Over 50% of the 230,000 cops undergo drug testing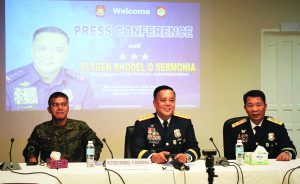 CAMP RUPERTO KANGLEON, PALO, Leyte– The fight against illegal drugs in the country will be a 'never ending' one which also includes even the members of the police organization as among the subjects for drug tests.
Thus said Lt. Gen.Rhodel Sermonia, the deputy chief for operations of the Philippine National Police (PNP), in a press conference on Tuesday (Sept.12) where he served as the keynote speaker for the 122nd service anniversary of the PNP-8 held at the regional police headquarters, this town.
According to Sermonia, out of the more than 230,000 members of the police organization, about 50 percent of them have been drug tested wherein 25 cops were found to be using the illegal substance.
Of these police personnel who tested positive for using the prohibited drugs, eight of them were dismissed from police service, one has resigned with the remaining still facing hearing proceedings.
The police official, however, did not disclose further details on this.
"This campaign against illegal drugs will not stop; it will be a never-ending campaign which is also part of the reformation program (of the PNP) to ensure that no one from the PNP is involved or in the use of illegal drugs," Sermonia said.
He, however, admitted that lack of funding is a big factor why drug testing among police personnel is sometimes halted.
Sermonia expressed his gratitude to some mayors who extend financial assistance to their police offices for such purpose.
According to him, there are corresponding penalties for any member of the police organization who would be discovered to be engaging in the illegal drug trade.
"The worst is dismissal from service," he said.
Earlier, Pres. Marcos accepted the resignation of 18 high-ranking police personnel who were said to be allegedly involved in the illegal drug trade.
And of them was Col. Michael David, the chief of the regional staff of the PNP-8. David, however, denied that he was involved in the illegal drug trade.
Meantime, Sermonia issued an appeal to voters of the forthcoming barangay and Sangguniang Kabataan (SK) elections not to elect those who are engaging in the illegal drugs trade.
According to him, these villagers knew who are into illegal drugs in their areas, and by not electing them, they could help address the problem of the illegal drugs facing the country.
"This is the best time, the right time to choose the right leaders who are ready to fight against the illegal drugs so we can achieve peace and development," Sermonia said.
The country is to hold the barangay and Sangguniang Kabataan elections on October 30 this year.
JOEY A. GABIETA/LIZBETH ANN A. ABELLA