CALBAYOG CITY– An agrarian reform beneficiaries organization (ARBO) from this city's far-flung village rejoiced as they received another set of farm equipment from the Department of Agrarian Reform (DAR).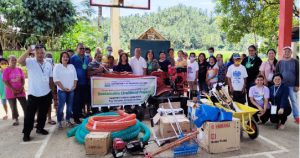 "We thank you DAR for listening to our concerns, for granting us what you had committed," said Pedro Abajo, president of the Panoypoy Farmers Association (PFA), as he expressed gratitude to DAR officials for fulfilling their promise.
On October 21 this year, DAR Samar provincial chief, Alfonso Catorce, formally turned over to PFA a hand tractor with rotavator, a water pump with suction and discharge hose, a grass cutter and several garden tools.
Catorce disclosed that the said equipment, with a combined amount of P260,250.00 were funded under DAR's Climate Resilient Farm Productivity Support (CRFPS) project.
According to him, the distribution of common service facilities is in line with Agrarian Reform Secretary Conrado Estrella III's nine primary goals which include the provision of modern farm equipment.
PFA identified the above mentioned common service facilities as what they badly need in their daily farm activities, which DAR provided under CRFPS' Sustainable
Livelihood Support to Disaster Affected Areas.
Abajo shared that the newly acquired equipment "will surely benefit our members."
Thelma Alfaro, chief of the Program Beneficiaries Development Division (PBDD) reminded the recipient ARBO of their responsibility to maintain the equipment in good condition and provide a secured storage facility.
Meanwhile, City Councilor Minda Pasacas, who is a resident of this village, and Barangay Chairperson Maria Princess Montaner, both expressed their gratitude to DAR for the never-ending support to the agrarian reform beneficiaries (ARBs) here. "From providing them lands to till, to livelihood assistance, to linking them to institutional buyers, and now PFA receives another set of farm equipment from DAR," said Montaner.
Municipal Agrarian Reform Program Officer (MARPO) Jose Arropo further shared that PFA is composed of 113 members, where 69 of them are ARBs. PFA is into hog raising and organic vegetable production, Arropo added.
(JESSA LABAGALA, DAR-Samar/PR)