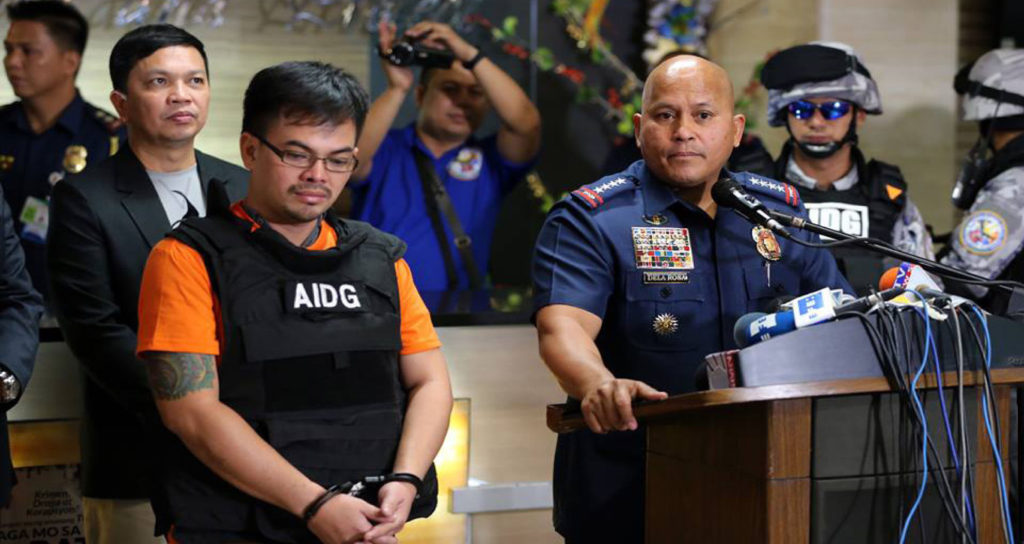 List of alleged drug protectors  
TACLOBAN CITY- The return of alleged drug lord of the region, Kerwin Espinosa, to the country would surely bolster the affidavit earlier executed by his father, murdered Albuera, Leyte Mayor Rolando Espinosa, Sr.
This was the claim of Chief Inspector Jovie Espenido, police chief of Albuera who initiated in the filing of criminal cases against the Espinosas.
Espenido, in a phone interview, said that he is glad that Kerwin is finally in the country and now in the custody of the police.
"He will definitely support and corroborate with what his father issued earlier. I just hope that he will just tell the truth and will have the conscience not to include names that they did not deal with," the Albuera police chief.
Kerwin arrived in the country Thursday (Nov.17) after a month of being imprisoned in Abu Dhabi.
After his arrival, he was presented to the media by Police Director General Roland "Bato" de la Rosa wherein he promised to "tell all" and cooperate to any investigations regarding their illegal drug trade.
His father, prior to his incarceration at the Leyte subprovincial jail in Baybay City where he was gunned down in an alleged shootout incident with members of the Criminal Investigation and Detection Group (CIDG) on Nov.5, executed an affidavit detailing names whom they claimed to have received huge amount of money in exchange of protection for their illicit drug activity.
Among them were Senator Leila de Lima, a former Justice Secretary, and string of police and Leyte officials who include Governor Leopoldo Dominico Petilla, Vice Gov. Carlo Loreto, Rep. Vicente Veloso, Ormoc City Mayor Richard Gomez, Baybay City Vice Mayor Michael Cari.
All denied the allegations that they received money from the Espinosa drug group.
Espenido said that with Kerwin willing to "tell all," he expects that all those who supported their illegal drug trade will be prosecuted.
"That is our purpose; to put them behind bars". I actually pity Kerwin. He is just (reached) second year high school. I'm sure there are people who were behind on the operations of this illegal drug trade," the police official said.
Espenido also said that he favors for Kerwin to be allowed to visit the wake of his father for "humanitarian reasons" at their house in Barangay Binolho, Albuera.
"He should be allowed to come here in Abuera and visit the wake of his father for humanitarian reasons," he said.