Ormoc City – The Department of Public Works and Highways (DPWH) – Leyte 4th District Engineering Office (DEO) maintenance crew work over the weekend braving the challenging weather conditions to ensure roads are safe for travel.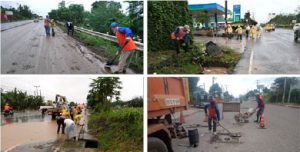 The heavy rains have caused thick mud to accumulate along Palo-Carigara-Ormoc (PCO) road section which make it difficult for vehicles to traverse and cause accidents. Equipped with shovels, the maintenance team scraped off mud and debris from the roads.
Additionally, canal clearing operations were also conducted. Obstructions such as plastics, sugarcane and other trash were removed, effectively clearing the waterways and preventing further flooding.
Meanwhile, with the improved weather condition, the pothole patching operation was immediately carried out along the busy PCO road to repair potholes and improve road conditions.
The Department's maintenance team have been working around the clock to identify and address various road problems with continued efforts to work towards a safer and more efficient road system in the district. (PR)