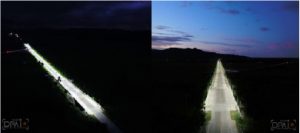 NSSDEO, Brgy. Burabud, Laoang, N. Samar– The DPWH-Northern Samar Second District Engineering Office (NSSDEO) has recently completed the road widening of tertiary roads in Rawis-Catubig Road Section, Brgy. Simora, Palapag, Northern Samar, on October 19, 2023 under contract with CDU Construction and supervised by Project Engineer Analyn Mananguite.
The DPWH allocated P74 million from General Appropriations Act (GAA) 2023 for the project which covered the following: (1) concreting/widening of 1,269.00 meters roadway with 1.50m shoulder both sides; (2) concreting/widening of 737.00 meters roadway with 1.50m shoulder both sides; and (3) installation of 64 pieces solar street light.
"Maupay po nga mayaon na ngadi solar panel light, darako an pinagkaiba san una nga waray pa ilaw. Tapos masirom la. Yana maupay na kay gisunai. An mga panel (truck), ngadi na sa ligid napahuway kay masuna na didi ngan safe na para kanra ngan syempre para sa amon nga mga resident didi sa Simora." Remer Dianito, a resident of Brgy. Simora, expressed his gratitude during an interview conducted by the PIO staff.
This road widening project will help in the decongestion of the town center, and at the same time improve road user's safety. It will also cater a larger volume of vehicles including 10-wheeler trucks and transporting goods.
It is also expected to encourage more tourists to visit various tourist destinations in Catubig, Laoang, and Palapag areas which will help the tourism and economic growth.
Furthermore, the solar street lights are sustainable, cost-effective, and safer than traditional lights since it automatically turns on itself when the lighting is needed at night, it can also switch on and off according to the brightness of the environment which can help the safety of driving and pedestrians at night.
Solar LED Street lights were installed to provide adequate lighting and to reduce the occurrence of accidents in the area.
(LYCA MAE T.QUILICOL, PIO ALTERNATE/PR)