CATARMAN, Northern Samar-The Department of Public Works and Highways – Northern Samar First District Engineering Office (DPWH-NSFDEO) is set to embark on a significant infrastructure project that will address a long-standing concern for the residents of Barangay Gebulwangan and its neighboring Barangays.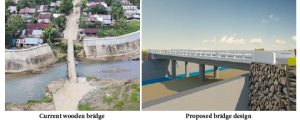 This two-phase project covers the construction of a road with a 3-Span Reinforced Concrete Deck Girder (RCDG) bridge with a total length of 45 meters with an estimated cost of P60 million. It will soon replace the current wooden bridge, offering a safer and more reliable passage for the community.
The pressing need for a new bridge in Barangay Gebulwangan stems from the repeated destruction of the old wooden bridge due to the onslaught of typhoons and severe weather conditions.
In fact, residents have faced considerable challenges in crossing the barangay during floods, relying solely on a precarious wooden bridge that becomes impassable during inclement weather.
In an interview, locals revealed that there are times when they cannot cross the wooden bridge due to the rising water levels, especially during the rainy season. This frequent occurrence renders the bridge impassable and disrupts the smooth transfer of goods and services.
Hence, the forthcoming construction of the new bridge is a realization of the community's dream for safer and more efficient connectivity.
Once completed, this concrete bridge will not only ensure the smooth flow of people and goods during regular days but will also serve as a robust lifeline during times of calamities, facilitating easier access for emergency services.
"The construction of this bridge is a testament to our commitment to the welfare and development of the communities we serve. This project is a step towards providing them with a more secure and reliable passage" said District Engineer Mario D. Villena.
This project, which is funded under the GAA 2023 budget, is expected to be implemented within this year. Its construction is expected to enhance economic activities in the area and improve accessibility, benefiting both residents and farmers alike.
(ANALIZA A. PABIA, PIO ALTERNATE)