CATARMAN, Northern Samar-In an effort to provide valuable learning opportunities to young aspiring engineers, the Department of Public Works and Highways – Northern Samar First District Engineering Office (DPWH-NSFDEO) recently conducted an orientation for On-the-Job Training (OJT) students from the University of Eastern Philippines (UEP).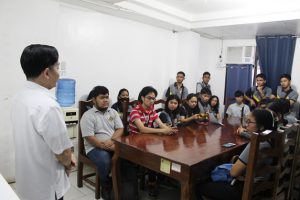 Administrative Officer V Edwin S. Table led the orientation program, welcoming the enthusiastic batch of OJT students to the district office.
During the orientation session, Admin. Officer Table emphasized the significance of practical experience in complementing academic knowledge and fostering professional growth.
The OJT students, eager to immerse themselves in the world of civil engineering, were given an overview of the DPWH-NSFDEO's key functions and responsibilities.
They were also introduced to the various technical sections where they will be assigned like Planning and Design Section, Construction Section, Quality Assurance Section, Maintenance Section.
Throughout the orientation, Admin. Table encouraged active participation and answered queries from the students, fostering an interactive and engaging atmosphere. He also emphasized the significance of safety protocols and ethical conduct in their roles as OJT students, considering that they will spend a total of 240 hours training at the office.
Through this OJT program, young aspiring engineers are given a chance to contribute to the advancement of the community while honing their skills under the mentorship of experienced professionals.
As the OJT students embark on this journey, DPWH-NSFDEO remains committed to providing a conducive and educational environment that nurtures their passion for civil engineering and prepares them for future challenges in the field.
(ANALIZA A. PABIA, PIO ALTERNATE)