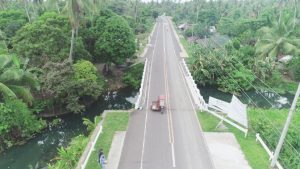 TACLOBAN CITY– To restore the load-carrying capacity of Cabadiangan Bridge in Barangay Mabini in Mayorga town, the Leyte Second District Engineering Office (L2DEO) of the Department of Public Works and Highways (DPWH) completes the retrofitting and strengthening of the said bridge.
The project cost P989,608.65 under the Bridge Program—Retrofitting and Strengthening of Permanent Bridges program of the DPWH General Appropriations Act of 2023.
District Engineer Leo Edward Oppura said that the project involves the placement of carbon fiber sheets under the bridge deck slabs to cover concrete cracks and prevent further extension of the concrete structure issues in order to improve the overall quality of the bridge.
Cabadiangan Bridge, measuring 23.5 linear meters, is within the route that connects the towns of Mayorga and La Paz and is classified among the 55 permanent bridges under the DPWH list of national bridges.
The project was completed on April 7, 2023, undertaken by ZtatikMarketing and Engineering Services, brings the structures up to standards, protecting the bridge from dangers and further deterioration.
(LIZBETH ANN A. ABELLA)