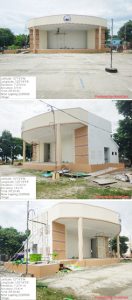 NSSDEO, Brgy. Burabud, Laoang, N. Samar– Lapinignons in Barangay Lapinig Del Norte can now celebrate significant events through the effort of the Department of Public Works and Highways–Northern Samar Second District Engineering Office (DPWH-NSSDEO), headed by OIC-District Engineer Charlito S. Carlobos and OIC-Assistant District Engineer Atty. Arthur Eric L. Sabong, completion of the project, Construction of a Multi-Purpose Building (Sports Coliseum) in Barangay Lapinig Del Norte, Lapinig, Northern Samar.
The aforementioned project was funded under the General Appropriations Act (GAA) of 2022 with a contract amount of P 9,750,742.79 intended for the complete construction of the Sports Coliseum's Stage including the removal of the existing stage, reinforced concrete works, and finishing works (Masonry, Fabricated material installations, Painting, Metal Structure Framing, and Roofing) which was undertaken by JUPA Construction.
In order to guarantee the construction method and adherence to the quality standards of the Department, the NSSDEO top management assigned technical personnel to supervise and monitor the project. Thus, Project Engineer Bryan M. Fortes, for the supervision to assure accuracy, proper resources, and quality of project from start to finish, assisted by Resident Engineer Ryan S. Vestra. Whereas, Materials Engineer Justino E. Serafin, Jr. laid his expertise to identify and recommend appropriate materials intended for the project.
This sports coliseum stage is now a venue to cater various to events of Brgy. Lapinig Del Norte. Furthermore, the project will be a means to attract the community's attention and maximize the positive effect since it also has electrical system for convenient access to sound and lighting.
(ZYRA JOY J. CHING, PIO STAFF)