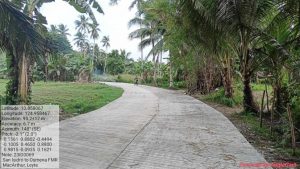 MAYORGA, Leyte – Another farm-to-market road (FMR) project has been reported completed by the Leyte 2nd District Engineering Office of the Department of Public Works and Highways (DPWH).
The FMR project, amounting to P12.3 million, involves the construction of a 1.045-kilometer of portland cement concrete pavement (PCCP) in a 5-meter span that traverses the villages of Guimiranat East to Ormocay, this town.
"This project is in partnership with the Department of Agriculture (DA), aiming to provide better connectivity between production areas and markets, enhancing the efficiency of transporting agricultural products," said District Engineer Leo Edward Oppura.
The local communities of Guimiranat and Ormocay are mostly engaged in agricultural productivity such as coconut, rice crops, vegetable farming, and livestock as their source of livelihood.
Thus, a reliable transportation system is needed to transport their goods to the trading area. Minimal transportation costs and travel time are advantageous to the local farmers and daily travelers, especially the students who seek a better education system in the town proper.
Furthermore, accessibility and delivery of basic government and healthcare services will be smoother and easier with the newly paved roads in the villages.
The Leyte 2nd DEO has already completed two projects out of the eight FMR projects for this year, in partnership with the DA, Oppura said.
(LIZBETH ANN A. ABELLA)