NSSDEO, Brgy. Burabud, Laoang, Northern Samar-– The Samar Pacific Coastal Road (SPCR) has provided the Northern Samar 2nd District Engineering Office (NSSDEO) their latest monthly accomplishment report as of January 25, 2023. Costing P 1.241 billion (KEDFC LOAN NO. PHL-14), its actual accomplishment is now 81.306%.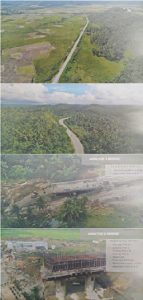 The SPCR project is envisioned to link the so-called "Pacific Towns". Its completion would complement and eventually establish a circumferential road lop of Samar Island. Further development of the regional industries would stimulate further growth and reduce poverty rate incidence in the area. It will also provide benefits to the local economy and improve economic situation in the area as a result of an improved transportation system.
It aims to construct an 18.6472-kilometer Portland Cement Concrete Pavement (PCCP) including the construction of three (3) bridges located in Barangays Simora and Jangtud with total length of 261.0 linear meters. It will directly connect by land travel población Palapag with Brgy. Simora in the mainland Northern Samar.
The project is expected to be finished on June 30, 2023 based on proposed C.T.E. No. 10. (LYCA MAE T. QUILICOL, PIO Alternate