San Juanico lighting project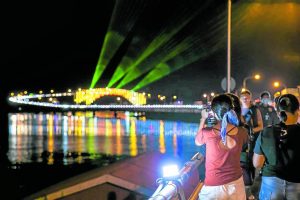 TACLOBAN CITY – The Department of Tourism (DOT) is pushing for more vibrant economic activities near the San Juanico Bridge two months after the official switch-on of the bridge lighting project.
Despite the nightly glowing of the long bridge, the tourism department noticed that local government units and nearby communities have not yet enjoyed the maximum benefits of the new tourist attraction.
"Since it is already there, the next step is to be able to capitalize on the light show by creating economic activities," said DOT Eastern Visayas regional director Karina Rosa Tiopes in an interview.
The official said the Samar provincial government has already identified a spot to set up a viewing deck with nearby shops. The local government unit has not yet announced the official kick-off of the project.
On Dec. 1, 2022, the provincial government inaugurated the Spark Samar Tourism Information and Pasalubong Center in San Juan village in Sta. Rita, Samar.
Earlier, the local government completed the access road and the Pasalubong Center building. The access road will be connected with the soon-to-be-constructed viewing deck, which will provide a wonderful view of the San Juanico Bridge Lights and Sounds Show.
On Oct. 19, 2022, the Tourism Infrastructure Economic Zone Authority (TIEZA) announced the construction of boardwalks on both Samar and Leyte sides of the 2.16-kilometer bridge that links the two islands.
"We are banking that all systems go for TIEZA-funded boardwalk. It will attract more visitors since the structure is designed for nearby restaurants and shops. There is also a bike lane," Tiopes said.
The official is still unsure of the timeline of the projects since funds are not yet available. She added funds will be drawn from travel tax.
Currently, only a few restaurants have been set up near the bridge on Tacloban side but need to improve service standards.
"They must level up their standard. They need assistance to improve the setting just like designated parking area and minimize the noise," she told reporters.
On Oct. 20, 2022, President Ferdinand R. Marcos formally switched on the San Juanico Bridge Lights and Sounds Show.
The lighting of the San Juanico Bridge signals the turn of Samar to "shine" after its slow rise from the effects of natural disasters, Governor Sharee Ann Tan said.
The 2.16-kilometer San Juanico Bridge stretches from Samar to Leyte Island and is the longest bridge along the Pan-Philippine Highway that connects Luzon and Mindanao.
Built in August 1969 and completed in 1972, the bridge has stood the test of calamity, hurdling Super Typhoon 'Yolanda' (Haiyan) that ravaged Eastern Visayas on Nov. 8, 2013.)
SARWELL Q. MENIANO/PNA