With almost a million target of measles, polio vax drive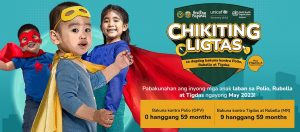 TACLOBAN CITY – More than a million children in Eastern Visayas ages 0 to 59 months old are targeted by the health department to receive the supplemental immunization for the whole month of May.
Target for this supplemental immunization campaign are 550, 559 children aged 0 to 59 months for polio and 471, 472 children aged nine months to 50 months for measles.
Most of the targeted children for the supplemental immunization for measles are from Leyte province with 155, 373, followed by Samar with 86, 507, Northern Samar with 73, 835, Eastern Samar with 51, 365, Southern Leyte with 39, 428, Tacloban City with 24, 921, Ormoc City with 22, 124, and Biliran province with 17, 919.
For polio immunization, 181, 930 children are from Leyte, followed by Samar with 100, 956, Northern Samar with 85, 776, Eastern Samar with 60, 293, Southern Leyte with 45, 699, Tacloban City with 29, 175, Ormoc City with 25, 915, and Biliran province with 20, 815.
"The goal here is no child should be left unvaccinated regardless of where the child is during the period of May 1 to 31 they should receive immunization," Elena Villaroza, immunization program manager, said.
"The strategy is swift and sweep, meaning we will do it in a swift manner in a sweeping strategy. We will not miss any corner of the community to look for this child, to reach our target of 95% or more," Villaroza added.
To ensure the success of the supplemental immunization, the health department sought help from all its partner stakeholders like the local government units to address concerns that may arise during the month-long activity, particularly on vaccine hesitation that might affect to reach the target.
Including in this concern that the agency is targeting to address is the behavior of some parents believing that a single immunization is already enough for their children.
Information and education campaign or advocacy program is constantly done by the health agency with the help of the barangay health workers to change some parents' perspective or behavior against vaccination.
Another issue that they aim to address is tracking the whereabouts of immunized children with the help of the barangay health workers which could impact the actual count of vaccinated children in a particular place if they migrated to another area.
(ROEL T. AMAZONA)