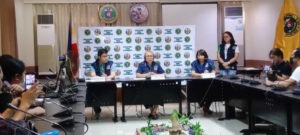 GOVERNMENT CENTER,PALO,Leyte-A 51-year old woman who travelled to Japan is the first confirmed coronavirus disease 2019(COVID-19) case of Eastern Visayas.
This was confirmed by Dr.Minerva Molon, the regional director of the Department of Health(DOH-8) in a press conference on Monday afternoon.
Molon said that the woman who is from Northern Samar had travelled to Japan and arrived in Manila on January 2,2020.
She returned to Northern Samar last March 3 and on March 7,she went to a private hospital after she suffered difficulty in breathing, cough, and colds.
She was later transferred to Eastern Visayas Regional Medical Center, based in Tacloban, on March 12.
And while she was admitted at the referral hospital, her condition improved.
However, the test sample taken from her turned out to be positive reason she was not discharged as scheduled.
"The patient's condition improved and was subsequently wheeled out of the ICU with an occasional cough. She would have been discharged today (Monday) had the result been negative," Molon said.
At around 9 am today(March 23), the DOH took another swab samples from the woman as part of the protocol to be submitted to the Research Institute of Tropical Medicine, Molon said.
Immediately, the health authorities went to Northern Samar to conduct contact tracing.
"A team has been sent to the area to conduct contract tracing.This is to ensure all contact is managed well and taken samples for laboratory confirmation. We are also implementing measures to protect the health staff providing care to the patient," Molon said.
Molon assured the public thatt the DOH8 is on top of the situation and nothing to panic.
"With the current situation in the region, again, I urge the public to stay calm and remain vigilant," she said.
At present, there are about 237 persons under investigation (PUIs) as based on the record of the DOH-8.(JOEY A.GABIETA)