TACLOBAN CITY – The Department of Interior and Local Government (DILG) is planning to implement a project that will install closed circuit televisions (CCTV) in major areas of the region, especially in areas where crime incidents are high.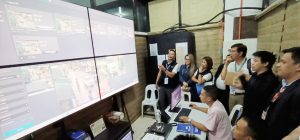 This plan will not only help in crime prevention initiatives but even during disaster risk reduction and mitigation, it said.
However, because it would entail a huge amount, this is still in the planning process, Adrian Thomas Colasito, the DILG-8 local government operations officer, said.
Colasito said that several agencies that already expressed their support to this project which is part of the Peace and Order and Public Safety (POPS) Plan for the region.
"Unfortunately, it is still in the planning process. We had already signified to support it, especially for the funding," he said.
"We are working it out. We have the support from the Speaker (Martin Romualdez), and we are hoping that this project will push through," Colasito added.
The official added that even if this project would not push thru, the support of the community is still necessary to deter criminality in each locality.
"We still need the community," Colasito emphasizes, adding that in the five pillars of the Philippine criminal justice system, the community is included being the source of personnel who will become law enforcers, who are directly or indirectly victims of criminality, and the greatest source of information against crimes.
"Character molding starts in the community and basically crimes are a measurement of how our community fails. That is why we always emphasize the role of community particularly in crime prevention," Colasito said.
Police Regional Office 8, Regional Community Affairs and Development Division Chief PCol Dionisio Apas Jr. said that the law enforcement agency highly encourages the installation of CCTVs to help deter crimes.
"We encourage na maincorporate or maisama ang procurement ng mga LGU ng CCTV kasi kung titingnan natin, napakalaking gamit nito,"he Apas said.
PCol. Apas added that although this will mean an additional budget for the LGUs but this will greatly benefit them in the peace and order and security aspect in the long run.
(ROEL T. AMAZONA)