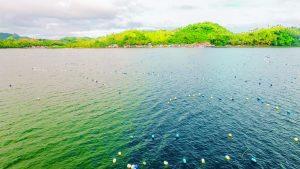 TACLOBAN CITY — Fishers of Barangay Baclayan, Daram Island in Samar no longer have to fish in the deep waters every single day to support their daily living as they discovered an easier and more sustainable way of making money through mussel long-line farming.
Mussel farming, which used to be a seasonal source of income for few fishers in Brgy.Baclayan, has now become the primary source of living of the many in its community.
The 40 members of the Baclayan Mussel and Crab Fishers Association (BMCA) can attest to this as they projected a P14,000-P70,000 per cropping earning from their long-line mussel farming.
This led to an annual production of 524 sacks or 36.68 tons of green mussels worth P700,000 out of the 95 lines installed within the waters of Brgy. Baclayan.
This was made possible through the provision of 240 rolls of PP rope, 4,000 plastic container jugs, 40 marine epoxy sets, 160 bags of cement, and 80 steel bars worth P2,051,120 of long-line mussel farming and installation materials from the Fisheries Coastal Resource and Livelihood (FishCORAL) Project in 2020.
BMCA also practices the use of coconut shells as spat collectors, a sustainable and beneficial method not only for the environment but also for the coconut farmers within their island who serve as their primary suppliers of these materials.
Mussel farmers of BMCA shared that they have used part of their earnings from their initial harvest to purchase additional long-line materials to increase their annual yield and upstart the mussel farming ventures of their family members who have been encouraged to try this mussel farming method.
From being able to pay for their daily needs and investing in more long-line modules in mussel production, BMCA fishers proudly shared that they can now afford to send their children to universities and chase their lifetime dreams, unbounded from the ties of poverty.
"Nakapaayad kami hin panalagudti han amon mga balay ngan an iba ha amon in nakakapagpa-eskwela na han ira mga anak ha college," shared by Paulino N. Cueso, the BMCA president. (We were able to make minor renovations in our houses while some of us were able to send their children to college.)
"Nakakabulig an pagtahong pamalit-palit han amon panginahanglan ha amon mga panimalay," Alan Cipra, one of BMCA's top mussel harvesters added. (Mussel farming helps us buy our needs at home.)
Cueso and his members aired their request on having a floating guardhouse near their mussel farms as thieves occasionally steal their mussels.
They also wish to have a better boat that can be used during seaborne patrolling as illegal fishers frequently intrude on their area, leaving their long lines damaged.
Although faced with these challenges, the mussel farmers of Brgy. Baclayan still hopes that the BFAR and other government agencies will give their earnest support on the future expansion of their mussel farms to provide a dependable source of living for their entire community, lifting the lives of more fisherfolk families in Daram, Samar.
An association thriving and working towards not only their individual growth but also for their community, using a resilient and sustainable mussel farming method. This is the humble Baclayan Mussel and Crab Fishers Association.
(ROEL T. AMAZONA/BFAR-8)