TACLOBAN CITY – The Department of Agrarian Reform (DAR) downloaded P1.5-Million to the local government unit (LGU) of Palo in the province of Leyte for the establishment of a greenhouse that will be managed by an agrarian reform beneficiaries organization (ARBO).
DAR Eastern Visayas chief of the Program Beneficiaries Development Division (PBDD), Melecia Ong, disclosed that the said amount is taken from the Agrarian Reform Fund (ARF) for the implementation of the Sustainable and Resilient Agrarian Reform Communities (SuRe ARCs) program.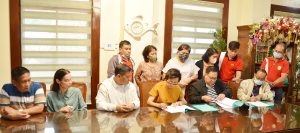 She further disclosed that the SANAG (San Agustin) Rice Farmers and Livelihood Association, a DAR-assisted farmer organization within the Palo Agrarian Reform Community (ARC), was pre-selected to be the recipient of the greenhouse to help them expand their livelihood activities and generate more income by undertaking the enterprise-based crop nursery project, which is in line with the food security program of President Ferdinand Marcos Jr. and the nine primary goals of Agrarian Reform Secretary Connrado Estrella III, particularly in the provision of modern farm equipment to agrarian reform beneficiaries (ARBs).
Ong added that the strong support of Mayor Remedios Petilla made this municipality qualify for the said project.
The collaboration between DAR and the Palo LGU was sealed towards the end of December last year when DAR Eastern Visayas Assistant Regional Director for Administration and Agrarian Reform Beneficiaries Development Sustainability Program, Ismael Aya-ay, representing Regional Director Robert Anthony Yu, and Petilla signed the memorandum of agreement (MOA) for the implementation of the said project.
The LGU will take the lead in the implementation of this project including the engagement and procurement of goods and items.
Petilla, expressed her appreciation and thanks to DAR for choosing her municipality as the recipient of the said project.
According to her, DAR is very receptive. She assured DAR officials and other national agencies of the LGU's support to any agricultural projects.
"We hope we can put our hearts and minds together to really come up with good agricultural production areas in the province of Leyte, especially in the first district," Petilla added.
Aside from the benefits the recipient ARBO will get, this project will provide the farmers in the locality access to quality seeds and seedlings and ensure the production of improved crop varieties and better quality of plant materials.
Aya-ay and Petilla likewise talked of intensifying production of herbs and flowers which are also in demand in the markets. (JOSE ALMSITH L. SORIA/PR)