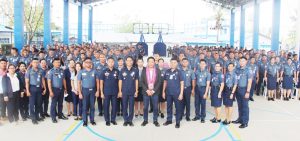 ORMOC CITY– Personnel from the Philippine National Police (PNP) conducted on Tuesday (Dec.13) simultaneous greyhound operations to different jail facilities in Eastern Visayas.
The operations, dubbed as 'Oplan: Galugad,' resulted in the confiscation from the inmates or persons deprived of liberty (PDLs) of several items.
In their operation, for example, at the Samar sub-provincial jail in Calbayog City, police authorities seized a microphone with a cord while a pocket Wi-Fi was confiscated from the inmates detained at Leyte provincial jail in Palo town.
However, most of the confiscated items were mobile phones with chargers and flash drivers.
Metal and bladed items like nail cutters, fork, razors, stainless blades, PVC pipes, scissors, shavers, and knives were also found inside the jail facilities.
Based on the report from the regional headquarter of the PNP in Palo town, no illegal drugs were found in any of the jail facilities covered by the greyhound operations.
B/Gen. Rommel Francisco Marbil, the police regional director, said that the greyhound operations were conducted to ensure peace and order will not be disturbed in the jails.
Inspected by the police personnel were the jail facilities in Samar, notably at the sub-provincial jail in Calbayog City; Leyte, particularly at the sub-provincial jails in Baybay City, Hilongos, and Palo; Northern Samar, especially at the sub-provincial jails in Allen and Bobon towns; the sub-provincial jails in Dolores and Oras towns and Borongan City, all in Eastern Samar; and in Biliran and Southern Leyte jails.(ROBERT DEJON)